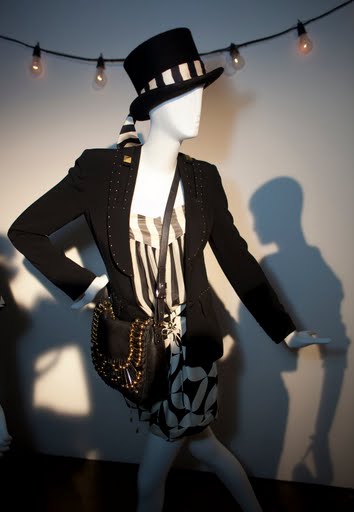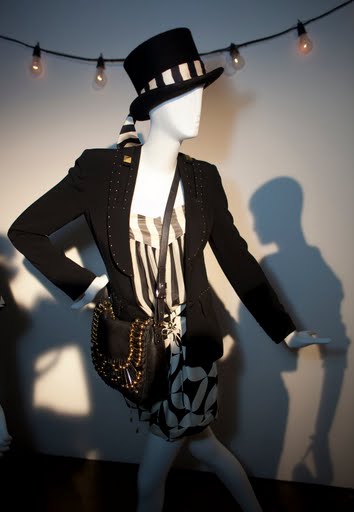 Temperley London, favorite of diminutive celebrity stylist Rachel Zoe, has taken a theatrical turn for Spring/Summer 2010. The theme du jour was old world circus glam, accomplished with emphasis on heavy beading, revealing sheers, and lace-up drawstring detailing.  
There was no shortage of hits in this collection- Queen Zoe should be pleased. Styles of the 20s and 30s reigned supreme, especially on fabulously pale dresses adorned with ostrich feathers at the shoulders for maximum drama. Others body-hugging dresses used contrast piping – hot trend this season seen elsewhere at Thuy, Leanne Marshall, and Jorge Isaac.  
Studs, beading, and ivory-colored buttons bedazzled several pieces, rendering standard accessories unnecessary and redundant. This is probably a good move for designers with red carpet aspirations – who wants to share the spotlight with someone else's jewelry? Another trend this season is the pairing of a tight-fitted bodice or top with a roundly voluminous skirt. While others have accomplished this with dresses, Temperley London hit the same look with a divine layered tulip skirt.  
A few pieces were somewhat less spectacular. One revealing sheer / mesh gown looked like something Cher would have worn twenty years ago. And while I applaud the label for using bold prints, there is such a thing as too much. The circus glam theme is fun, but it sometimes crossed the line from fashionable homage to overtly costumey. Case in point- a loose black and white jumpsuit with sheer torso that would only be appropriate on a character in a Tim Burton movie (though now he knows where to shop if he ever needs to dress a beautiful and sadistic circus ringleader with a penchant for the unusual).  
It was refreshing to see Temperley London step outside of their predictable past – geometric tunic dresses – and into a realm so much more daring. Walking the tightrope between reverent inspiration and over the top indulgence is difficult, and this show had far more hits than misses. We're looking forward to see what they come up with next. 
Go to Scallywag's Photo Gallery.