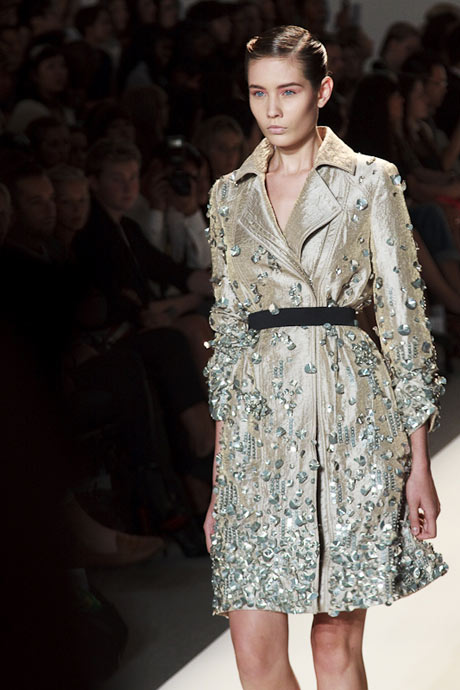 For most designers, spring lines are a time for spring colors. While pale pinks, sea foam greens, and eggshell whites may have ruled the collections of girlier designers like Leanne Marshall and Rachel Antonoff, Bryant Park veteran Thuy Diep of Thuy (pronounced "Twee") eschewed the typical in exchange for something unexpected.
Burnt orange, saturated purple, and bold black dominated Thuy's Spring/Summer 2010 collection. Models were styled to look at once elegant and intimidating: Tight braided updos with reddish pink eye shadow. Luxury was the name of the game.
Some pieces were adorned with icy looking bits of metal and plastic, others featured intricate cutouts, piping, and faux-pocketing. Hemlines on cocktail dresses were typically above the knee but not by much, and pants continue to imitate menswear in many regards.
One of the only parts of the collection that explicitly said "spring" was a translucent white plastic rain jacket (and those living in New York City surely couldn't help but see that jacket and be reminded of this year's perpetual summer rainfall). Thuy understands that "spring" doesn't mean warm weather and garden parties for everyone, for many it also still means making a dramatic entrance at a gala, frightening the underlings at the office, and standing apart from the crowd. Thuy's designs are bold, but that is not to say that they aren't also pretty- they are.
Leaving Bryant Park requires pushing through throngs of onlookers outside the tents to the obscurity of the subway below. As I hopped an F train I noticed one downtown commuter in my car also happened to be one of the models seen mere minutes ago in the show. The makeup was gone, but the familiarly styled updo told the tale. Clad in black leggings, tee shirt, and converse sneakers with grey purse and black Yves Saint Laurent tote, this sinewy female sat in her orange plastic molded chair completely unnoticed by other passengers, including the nearby Sex and the City clones holding their Thuy gift bags like a badge of superiority and talking loudly.
It must be strange and unnerving to go from absolute center of attention to completely anonymous in a matter of minutes, but this European-sounding model seemed unruffled as she put in her iPod headphones. She was on her way home to wash the product out of her hair before she had to be back for another show in only two hours, so it's believable that listening to music on the subway could actually be a small bit of respite from fashion's backstage insanity.
Also, a note to the snobs who think Manhattan is the only place to be for the young and beautiful- this model got off the train at the Carroll Street stop- that's in Brooklyn. 
Go To Scallywag's Photo Gallery.
THUY: An Exercise in English Romanticism.2010 Fall Collections.