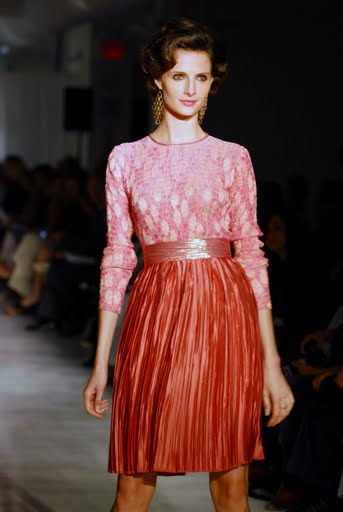 The photographers shuttering madly, the warehouse of a room completely in white, the Robert Tonner show was a collection of staged contradictions and sartorial upmanship. The crowd a chic and tawdry assortment of young and old, different races, different sensibilities. The collection itself left itself open to different interpretations as I suspect Tonner was aiming for a confluence of bygone glamor, Far East aroma and the patina of sleek inclinations.
The silhouette was from the 1950's and the detailing Far East inspired. Indeed, Robert Tonner explained that his collection was "Bollywood meets Mad Men". In that respect, Tonner delivered. His color palate was a gradation of pinks and greens, burnt golds, black and white; and he demonstrated his affinity for small waists, skinny belts, and Katherine Hepburn-esque trousers.
With underfed models (one is inclined to believe that is the new chic) the clothes hung loosely as they swaggered in Tonner's lithe parody of Bollywood madness. The sequin details and the overlaid lace were to be congratulated and served to emphasize Tonner's fine regard for the Far East
A doll-maker since 1991, Tonner has been designing clothes for his Robert Tonner collection of dolls. His Spring 2010 collection may not have been for the dolls, but the shimmering fabrics and the Bollywood styling created a fantasy world where grown up women can still play dress-up. For that one has to give credit to a designer for bringing whim and fantasy amongst a sea too self serious designers.