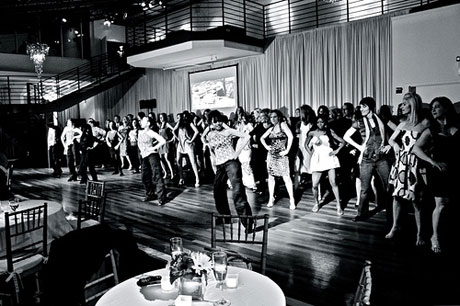 Approaching the Bpeace Dance Giving 09 event I had no real idea whether to wear heels or break dancing sneakers, as the concept of Dance-giving made me wonder if we would be counting the numbered hours for participants shaking it from sponsorship at Bpeace's annual charity evening. Though it had all the making of a traditional gala with proper door men, plenty of hors d'oeuvres this was not to be confused with the Lidia Bastianich graced dinner of last year.
Proceeding to the photo op was interest number one as my picture with another party go-er ended up looking more like the Kashi cereal box with both of us wearing traditional scarves and a head piece. Who knew helping women entrepreneurs in Rwanda also meant I got to dress like them.
The Tribeca Rooftop provided beautiful views of the city where giggly sorority-ish girls added shimmer with talk over champagne about Dad had said "holy shit we have a ginger child." We love red heads, and Dance-give loves red boas, which were tossed over the dance floor.
Mirroring a liberal arts college throwing an alum prom party down stairs, the dance floor was crowded with the over 37 crowd bouncing along as a large screen hung behind them playing video of women making crafts or women attending to whole communities; complete with statistic sub titles that made me take pause from dancing with the Bollywood funk to read stats about the very thing we supposedly dancing for. Admittedly I did not notice the screen until the end of the evening.
Like any event with no real theme or ruling party, there are the moments of awkward single person clapping when announcing auction winners or doing the last dance call. It felt like prom. Though the triumphant-benchwarmer charm of the evening was the lack of pretentiousness. Even the cropped hair feminist looking darling chipmunk of a woman who was overheard saying "we don't think we are better than everyone. But we are better than everyone" offered me a plate first at the dessert table.
There is heart here! Kicked off shoes danced brazenly, women becoming freer post 30, where starts the decline of inhibition. This could also explain the toned leopard thigh highs that crept from under a snug black skirt prowling around the event.
Though ball busting is usually in order post any event that included a Ken and Barbie couple with a bubblegum pop black and white polka dot dress both bouncing along next to what could have been your child's social studies teacher and the perky girls from the rooftop, nothing was left to pick at. The carcass of this event did not have juicy bits left on the bones to gnaw and nibble on. No scandal on the rooftop, no argument over who's table was whose and no uber flamboyant IT couples.
Coming home with pictures of myself draped in the traditional Rwanda shirt-dress next to the man with the accompanying head piece was enough for me. A fellow elevator rider went home with auctioned hand made cuff links from a designer he already knew. The cougars went home alone as they were found dragging their bags along the street at the end of the night waiting for a cab. Not a shining moment as the ten pm last dance call made it easy to segue into more social events for the remainder of the evening.
For better or for worse, that was the night of utter confusion and anything goes, where the oddity pales in comparison to the fact that it worked as well as any recession-proof alternative to an extravagant dinner gala could.
If only I hadn't flung my shoes so far across the room…