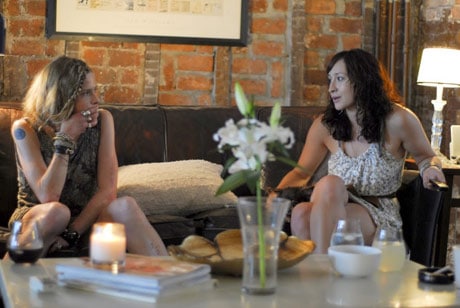 SCV: Having worked at Vogue, why do you say they wouldn't 'take you'? 
A.P: I think our niche is younger.  
N.H: Our stuff is somewhat avant-garde, it has that spirit. And Vogue is red carpet – 
A.P: And society girls, which I'm just anti. We do have a lot of people, though… I know Genevieve Jones, Julie Janklow, a lot of people like that and I didn't even know who they were.  
N.H: I often google customer's names and I've found that 95% of them all work in creative fields. They're all either artists, or graphic designers, web designers, designers themselves… We've helped a lot of people build their archives. Betsey Johnson, Derek Lam, Jill Stewart.  
A.P: We tried to do something no one else had, and I'm not sure if that still is the way. One thing is – Innovation. I'm like, do I innovate and do something new or just…wait? I remember coming back here after Boston College and not knowing what to do. I was kind of depressed. All I did was walk around all day long, up Madison Avenue, up 5th Avenue, in the Village, just wander around. And I remember talking to a friend about it who said, "Oh you're a flaneur, like Proust said, Proust always had this thing about making a profession out of observing life and reporting about it or just observing it." And that's what I wanted to do. You don't do anything but wander around and have thoughts about it or write about it and I guess our thing is to observe everything and then to make what we think is beautiful, to honor that.  
SCV: So maybe your writing hasn't been terrible crap lately. Maybe you're just utilizing all of your energy writing visually. 
(A mischievous smile exchanged between the stylist due who finish each other's thoughts without even employing the use of words). 
N.H: That's a good way to think about it. 
SCV: So…I see that rack over there. Do you have any clothes human beings can afford? 
A.P: We're going to do a hundred-dollars-and-under set.  
SCV: (springing up from the sofa toward the rack of brilliant colors) Count me in. 
Perini laughs, a wildly ruckus, life-loving laugh common to her explosions of passion and endearingly broken poise. They allow my bulging eyes a look at their table of accessories garnished with glittering pendants, a sequined (but somehow fantastic) bustier, blocky sunglasses, 80's galore. The rack reveals dresses of all kinds – mini cheetah print, luxuriously long and pink, shoulder-padded and sack-like – as well as blazers, cropped jackets, jumpsuits. 
Perini and Hussain stand calmly at the edge of the sofa, smiling at the treasure chest of loot before them, vagabonded, nurtured and nuanced by their very own hands. They do not force on me suggestions, insist on telling me how to dress; but simply enjoy hearing what I think, what I like, what fits me, what doesn't. There they stand, the spirited vagabonds of style. They just want to fuck things up a little bit. Make you look for half a second longer. Allow you to afford a snazzy appearance without having to live in Jersey. They care about their customers.
Essentially though, they just want their customers to care about themselves.