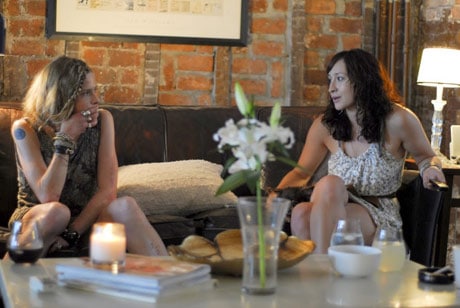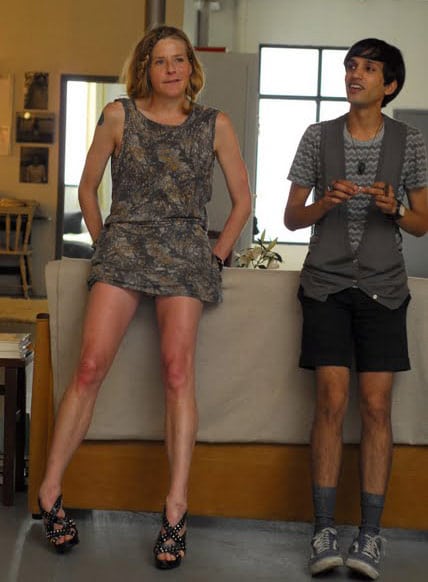 Andrea Perini is a tall, blonde of wacky braids, intermittent freckles and lengthy velour  strands who doesn't give a shit what you think. She scuttles by me on the street, unaware of my seated position behind the trash cans out front of her Brooklyn clothing studio at 35 Driggs Ave. In her spiked, black heels studded with silver squares, she struggles to haul a mirror off the street and through her front door, vagabonding gems from the strangest of places, as always. Perini and her partner, Naveed Hussain – adorably soft-spoken, casually & perfectly outfitted – have spent the past two years assembling Vagabond/NYC – a fashion line of vintage pieces assembled by their lofty determinations for new looks within old styles. 
Their bold colors, diverse array of vintage dresses, quirky accessories and daring jackets do not fit the label of a single category. Current and interesting, their styles span several past decades and, with the reverent, giggling spirit of Vagabond, manage to invent for themselves a quality of newness within their gem-like rags. Perini sits on the leather sofa, sandwiched by her two, adorable lapdogs, as Hussein lights a cigarette, both prepared to indulge in a close look at the last two years of Vagabond, the economic recession's connection to clothing, the internet's impact on selling them, and the future of fashion at large.  
SCV: There's two of you, right?  
AP: I guess I created it, but he's been with me since the beginning.  
SCV: How did you meet? 
A.P: We met when I was helping my friend, Hannah Kurland, who has a store called Marmalade on the Lower East Side. She was making a line of clothes and I had just returned from… I worked at Vogue for a long time, and then I left, cause I got sick of it. And I went back to Boston and got a masters in Psychology. I realized, doing internships, that I was taking on all these people's hardships and I couldn't let go of them, so I was like – I have to do something creative, I have to go back to the city. So I came back and started this and met Naveed at Hannah's store where I was helping her promote her design and style her look book. He was working for her as a salesperson. And I poached him…basically.  
NH: Being a shop boy is not that fun.  
A.P: It was obvious from the beginning that he knew about fashion in a way that was more historical and intellectual, more so than anybody else I'd ever met. Essentially, he writes all the blog. And I've stopped writing. I majored in literature at college, but, I don't know, I've been trying to write and its…terrible. He knows even more now, cause he's younger than I am. He knows the hip stuff.  April '77 and all that….Cause he goes out more.  
SCV: Vagabond specializes in clothing from the 60's to the 90's. How then do you continually draw inspiration from past eras in creating clothes for the upcoming? 
N.H: It comes from everywhere. From music, art, even fashion history itself and trends and runway. We even think about what we don't like.  
SCV: Such as? 
N.H: We hate the word 'Retro.'  I can't stand it. Also, especially in the states, people like rockabilly music, they want to look rockabilly from head to toe – that's totally not… 
A.P: Rockabilly's really cool, but you have to mix it up with other stuff.