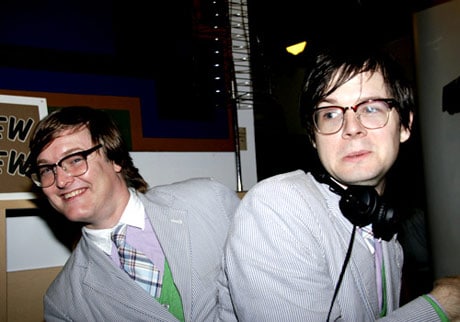 A recent venture down to Grammercy's  Housing Works Thrift Shop for the launch of the summer edition of the "Editors Picks," this month featuring Paper Magazine had me up against the cognoscenti (or so I was told).
Held once a month, Housing Works picks a publication to feature and the publications editors then sponsor, publicize, and hand-pick everything from HW's warehouse that will be for sale that night.  The only things in question are the attendees! (the cognoscenti part…)  What better way to ensure the arrival of a plethora of guests for an event?  Pull out the red ropes, a guest list, and provide free wine.
Arriving fashionably late, the store was already filled with customers, old and new, busily going through the handpicked racks, sipping Carlo Rossi red wine, and pumping their heads to the creative beats of DJ's Andrew Andrew.  And lest we forget, there were copies of the latest issue of Paper Magazine scattered around tabletops all around the store.   I eagerly grabbed a copy, having only read the magazine once or twice before.
After perusing the racks filled with retro clothing of all colors, quite the impressive selection of used books (I was tempted to purchase more than one), I did something I'd yet to ever do my almost-quarter life on this planet.  I was sipping red wine while sitting on furniture for sale… and not even being yelled at the get up!
About midway through the evening, I got the change to speak to the "Director of Stores," Zak Wing and I asked him a few questions.