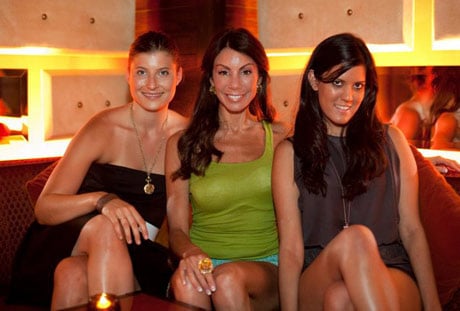 (click here to see preview pics of Danielle's sex tape)
The Real Housewives series, produced by Bravo, has traveled the most affluent of enclaves throughout United States in search of the "typical" housewife.  More than that the rise of such reality shows have become seemingly hinged on the back of certain myths, realities, aspirations and to be sure the 'delicious' display of certain characters at work. Characters like Danielle Staub, who have collectively inspired us, provoked us and yes even admittedly rattled us. Then again BRAVO probably wouldn't have it any other way…or  perhaps rather Danielle wouldn't have it any other way.
Playing the "evil one" of the New Jersey cast of what has now become the cult favorite 'Real Housewives of New Jersey (as opposed to NY) Danielle Staub has collectively mobilized a contingency that watches and aggressively gnarls at everything she does while secretly wishing they could get away with what she gets away with. Whether you love her, fawn over her or wish you could swap her 'questionable reality' you are at the very least compelled to wonder how far this thing called reality TV has gone or perhaps to be more succinct how far certain femme fatales such as Ms. Danielle Staub have gone.
That said we decided to take one of our favorite reality stars out to one of our favorite haunts – Japonais restaurant and over sumptuous appetizers, sashimi and the élan of such a noble and yes sexy aroma and cut to the chase. We had after all come to see for ourselves…
SCV: On the show you get to play the single wife of the pack, divorced, and unaffiliated with the other wives who all knew one another, didn't you know that you were walking into a minefield and better still did you enjoy walking into such a minefield?
DS: I was warned, but I didn't need those warnings.  If we do next season I want to show my friends and my family.  I think people would be surprised to know who my friends are.
SCV: It must be difficult to be a single woman on reality television, cause really all anyone is really interested in knowing is who you're dating.  Let's admit it romantic liaisons are generally more interesting than banal domesticity.
DS: It's taken me some time and a lot of books to figure it out "but people are often threatened by what they see, insofar as it's a mirror of what they're threatened by in their own lives." After a while you figure it out and don't let it bother you.
SCV: So, if your friends are truly supportive of you, why didn't you reach out to them when the whole book scandal occurred?
DS: Dragging them into something they wouldn't want to be involved with is a huge injustice.  I made a mistake because they suffered twice as much once the show aired, and now they're trying to be by my side.
At some point a Grey Goose martini materialized at the table.  From an unknown, timid man in a darkened recess of the restaurant, apparently, who loves the show. Danielle reluctantly took the frosted glass, undeterred by her initial effort to remain stone cold sober, and took a small sip.