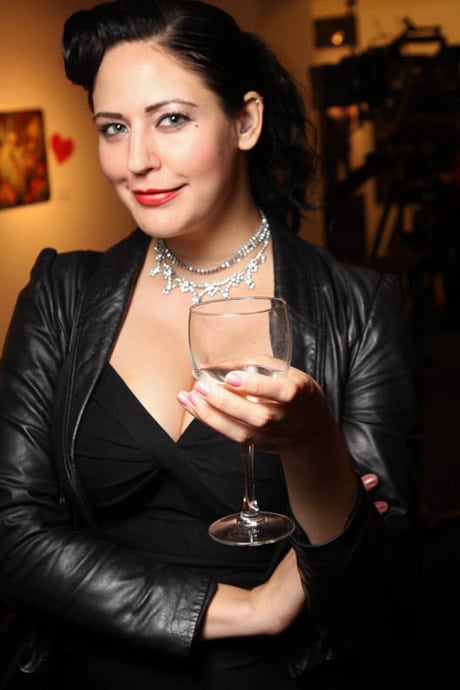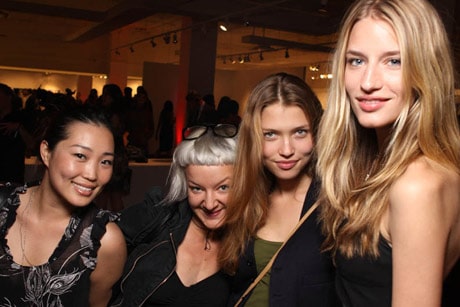 Wednesday night – a swelling ring of thin, hip, young things smoke, legs bare, tattoos abound, decadent sandals and all. The marble and glass amalgamation of 7 W 34th street has put on its best face tonight, polished and glowing with trails of beautiful bodies in skin tight garb and well pressed suits – the "downtown cocktail" attire so mysteriously referred to by invitation.
Press through the pack crowding the reception desk, ride the stoic elevator up to the eleventh floor and, as the doors roll backwards, find yourself smack in the middle of Manhattan's  most impressive fundraiser scenario – red carpets, glimmering camera flashes, high pitched greetings amongst the trendiest and hippest who have come to represent Gen Art, an organization committed to supporting undiscovered talent and the careers of emerging artists. For this reason, Gen Art has gathered honorary celebrity chairpersons like Zac Posen, Adrian Grenier, Nick Cannon, Georgina Chapman, William H. Macy, Adrien Brody, Rebecca Taylor, John Leguizamo, and Alan Cumming to promote their noble cause.
Music from the center floor DJ booth (DJ Rage Johnson and DJ Pazel) pulses magnetically throughout the massive gallery-like space of various white walls adorned with various prints, photographs, paintings. The art pieces have been donated by over 60 up-and-coming artists and the proceeds from purchased prints will march right along in Gen Art's fight to continue aiding artists in a time of economic crisis.
Brightly cuffed blazers, art deco dresses, turquoise pumps, silken collars and tastefully tattered jeans create a kaleidoscope of color against the corner wherein the open bar is mobbed. Like a college house party, a white tablecloth is thrown atop a folding table, liquor atop the tablecloth, exotic juices atop the liquor and the style-clad crowds sip delightedly. But here, the liquors are not cheap. It looks like someone snuck into one of the most particularly dignified midtown buildings, broke into an eleventh floor art gallery and threw a party – a dazzlingly, just-tame-enough-to-be-wildly-fun party.
A ring of looming cameras moves in three-pronged coordination across the abyss of white floor and I search for the fire. I know there are celebrities here, high, A-list, "oh my god, you saw her?" celebrities, but have thus far only glimpsed them inside their roped off community near the back. The cameras move again and an emptiness floods the right wing of the floor. Center stage in the emptiness stands an inner ring of stunningly tall, endlessly thin girls.
"Who is that?" says a mysterious voice from on line at one of the three bars. I recognize two of the girls as The Hills star, Whitney Port and The Hills' guest star, Roxy Olin. They move towards me. Olin's eyebrows pitch in recognition at the same moment as Port's and they reach out those delicately slim arms in an offer to embrace me. Old high school acquaintances, Port and Olin speak to me naturally, nonchalantly introduce their gorgeous friend and gaze at the artwork, though we have not spoken in some years, though I am not famous. Olin does an adorable little dance, a little jig with her elbows and sheds a bright grin. No other strangers dare enter the circle which remains empty apart from the girls and my company. When the girls bid farewell and walk on, the admiring, hesitant stares follow while Olin dances and Port smiles with ease. The three of them appear genuinely interested in the event itself and not in their entitlement to be stared at by its guests.
Go to Scallywag's Photo Gallery.