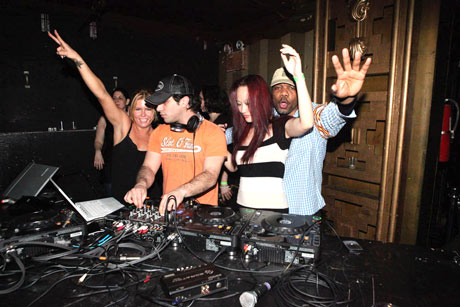 It's just after two in the morning and I've been ignoring the text on my phone all week when I finally capitulate. I'm walking up the stairs of a beehive of young kids, dwarfs, batman look a likes and the heavy rattling of Finlandia bottles. As I lock eyes with Sally I wonder why it took me this long to call her back.
The thing with living in Jay Gatsby's America is that you can at any one moment re invent who you want to be. That's not to say you can't do that anywhere in the world, you can, or at least you can dream about it. The reason they've been flocking them to America is the perennial notion that if one has will, fortitude, a modicum of luck and a steady head on their shoulder they can become the closest thing to the icon you've spent your childhood reading about and seeing winning over the heartland over and over on your TV.
To look at Sally in the flush is to actually look at a very pretty girl who will have you believe that while you are getting wasted she is too. That couldn't be further from the truth. Cause in actuality, Miss Shan is one of the most conscientious persons you'll ever come across. It's not that she doesn't like her drink, she'll raise a toast with you, it's just that in some way she's in complete disbelief that all this is happening to her.
What exactly is happening to Sally tonight is that she's celebrating her birthday amongst hundreds of boys and girls. If truth be told this is part 2. Part 1 was the night before at whatever clever and likeable girls like Sally like to go. It's strange to celebrate one's birthday in 2 parts, but looking around me I suddenly understand Sally doesn't have much choice. In some way she has become a de facto entertainer, purveyor to the scene.
So here we are at part 2, and I still can't take my eyes off the midget rolling in front of us, his red straw stuck in the back of his vodka throat. When I say part 2 what I really mean to say is that part that never quite ends, even if you keep reading that it should've, and that she's a terrible bitch.
Like a geisha girl she stands there in front of you, offering you her smiles, gratitude and warmth. She genuinely likes you, and is intrigued that you like her. Very intrigued. After all, she just took a hundred off you to dinner (courtesy of – Pop Burger on 9th and 14th) and hauled you over in at least three or four limousines. Then again, it's Sally's birthday, and as much as you've been giving her gifts (and hate mail- we know) all she really wants to do is give back to you.