Meeting the very liberated Miss Agathe de Bailliencourt a rising star of the Berlin and Parisian court and not to mention the salons of the Orient, Honk Kong, Malaysia, Singapore and India was an excursion of freedom and the idea that most of the time nothing really matters except how you feel at the very moment, and preferably devoid of construct.
It's this sensibility that often informs Miss De Bailliencourt's foray into the very constructed landscape that she super imposes her vitriol, her bold splashed colors, her elliptical synonyms (je men fous- I don't care, 'I take the expressway to your skull.') and spontaneous scrawls.
SCV; What compelled your recent migration to New York?
Agathe; I want to react to the way this city feels, sleeps, sounds and arrives to me. To explore my reaction to it.
SCV; How does one react?
Agathe; With no pre conception. To be completely open and free to form, color, texture, and fate. To appreciate the present as for the very first time.
SCV; For example?
Agathe; When I first visited Tokyo I was over whelmed with the types of noises I heard for the first time in my life, the arrangement of these noises, the colors, the forms, shapes, the congestion, and how this all ultimately made me feel.
SCV; Has this always been the way you have interpreted your work?
Agathe; In fact it has been an evolution. At first I began with charcoal on paper, then color to canvas, to reproduce a two dimension reaction. But then later I thought to try to completely inhabit the space, the noise, and to in fact super impose my interpretation of this reality in it's complete environment and surrounding.
SCV; In other words, three dimensional?
Agathe; Yes, I wanted to explore myself completely embracing the space around me. From the ceiling, the floor, the stairs, the bicycles in front of me, the crack on the wall. To walk into it, to stand inside it and yes to walk away from it.
SCV; And the cracks, I think that's fantastic.
Agathe; Yes I think in society we are so often pre occupied with the way we would like things to look and feel for us. We don't like to accept that we can never stay always beautiful, that we will get fat, that we will change.
SCV; So in many ways this is your way to accept your self?
Agathe; Yes, it is the way I express myself and to feel connected to the world, to leave my mark.
SCV; Tell me more about the project at 'Yogyakarta,' in Indonesia, where the French cultural center invited you to make an installation.
Agathe; I took an intersection, a corner in this town and began the process of my reaction to it. At first the people there didn't understand what I was doing, all the color, the way the road was now changing color, but after they really began to like it.
SCV; How long did it take to paint?
Agathe; Ten days.
SCV; You also super impose your images onto walls and buildings?
Agathe; Yes, I did this with 'Festival of Lights,' on the IHZ- Building in Berlin.
SCV; And this project is called 'Je m'en fous,' which means I don't care, or to be precise 'I don't give a shit.' Why is that you don't give a shit?
Agathe; Because it helps to free one self.
SCV; Is there a road or building here in New York that you would like to paint?
Agaithe; My god, give me the whole city.
SCV; What do you think, from all your travels, do you think there's a kind of pressure to create a certain kind of art, to continue a trend?
Agaithe; Yes, this thing exists, but I prefer not to pay attention to it, preferring to stay out of the loop and work for what is true for me. I feel like the comic 'Asterix,' fighting against the Romans, the little guy taking on the empire.
SCV; More so here in New York than in Europe?
Agathe; Well it's interesting, because in Berlin they really don't care, you are free to create as you will, but of course as wonderful as this is it doesn't always allow for continuity, galleries come and go all the time. So I am very curious to see what I can do in New York.
SCV; You have effectively spent the last five years in Asia, Berlin and your families residence in India. How do you think your work will change now that you have chosen to be in New York?
Agathe; I hope it will force me to be lost in the present. To feel like I have just arrived in the world for the first time, with nothing except my wonder to be here.
SCV; I also understand you have been commissioned on a number of occasions.
Agaithe; Yes I noticed you looking at my shoes. I made a collaboration with Converse the shoe maker, and they adapted my theme 'red' for their shoe which only just became available in the store in November.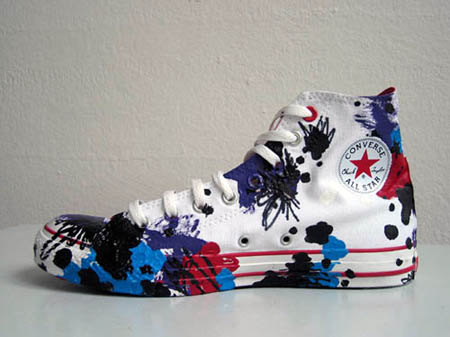 SCV; I hope they paid you well.
Agaithe; No, I wish. But the money is going to be used for medications for persons with Aids, and Malaria, especially in Africa.
SCV; What size shoes do you take?
Agaithe: I'm afraid my shoe is too small for you.
SCV; Perhaps we should try anyway?
(long pause)
Perhaps not. I also understand you have been commissioned by Ogilvy, Colette, and Comme des Garcons?
Agaithe; Yes, I am grateful for this, I like to contribute a dialogue as an artist to the plight of the world, and with Ogilvy we raise the theme of mental disease.
SCV; Your work very much reminds me of Joseph Beuys.
Agaithe ; No please don't say this.
SCV; And Cy Twombly and Basquiat.
Agaitha; It is of course one intepretation, but like all artists I must fight for my integrity, my own vision.
SCV; How does one become an artist?
Agaitha: You don't! I believe you are born this way, this way of observing and feeling the world. It must come naturally.
SCV; It can't be learned at school?
Agaithe; I think you can introduce concepts, show how to refine an idea, but the ability to create and live for the art, to receive it this must come from oneself.
SCV; What influences you?
Agaithe; My environment, music-the band Sonic Youth– 'I take the expressway to your skull,' from the Evil album of 1985/6, 'literature,- the Austrian author Thomas Bernhard, and yes to be free and sincere.
SCV; Can one really be sincere?
Agaithe; It is a dialogue one can only ever have with themselves