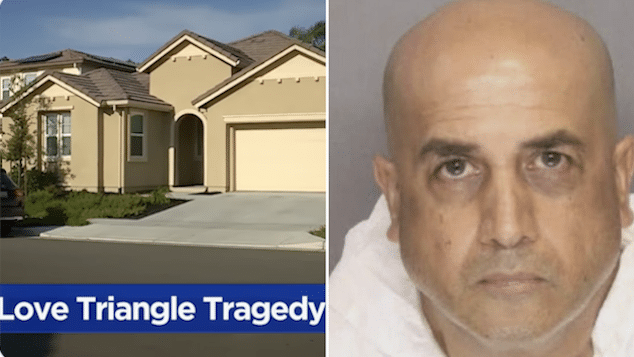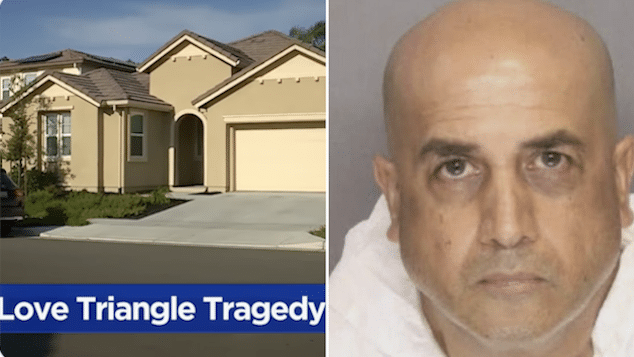 Love triangle gone bad:

Satnam Sumal shoots dead wife, Satbinder Singh and her lover, Nadjiba Belaidi dead at a Tracy, California home all three shared. 
Love triangle gone bad. A 55 year old California man in an open relationship is reported to have fatally shot his wife and her live in girlfriend at the home all three shared before then going to a police station and surrendering.
Satnam Sumal walked into the Tracy Police Department on Monday and confessed to killing 37-year-old Nadjiba Belaidi and 39-year-old Satbinder Singh, Sumal's wife, officials said in a Facebook news release.
The husband was booked on murder charges and taken to the San Joaquin County Jail where he remains without bail. 
Sumal and Singh were in an open marriage, and that Sumal was aware of his wife's romantic relationship with Belaidi. All three apparently lived together in the home where the women were killed, CBS Sacramento reported.
Neighbors left stunned as they make surprise revelation
Police found the women's bodies during a welfare check on Monday around noon at a home in Tracy, California, about 60 miles east of San Francisco. A firearm believed to be used in the slayings was found at the home, police said, according to KCRA.
Police said they were investigating what led to the killings on Sunflower Lane.
It remained unclear how long all three lived at the residence and when the girlfriend moved in to be with the husband's wife.
'In my 20-some-odd years in law enforcement, I can't think of that ever happening,' Tracy Police Sgt. Michael Richards told CBS.
'It's a tragedy, and our thoughts are with the family,' Richards told KCRA.
The homicides shocked the city of 93,000. Neighbors have been left stunned.
'It is really scary, and it's very unfortunate in this community this happened, and I feel very bad about it,' Karuppiah Karuppiah told CBS News.
CBS also reported that a neighbor said two children under 10 lived at the home but were not home when the shooting happened.
Anyone with information is asked to call the police to contact Detective Philip Giusto at Philip.Giusto@TracyPD.com or 209-831-6651 or Detective Kenneth Steele at Kenneth.Steele@TracyPD.com or 209-831-6660.