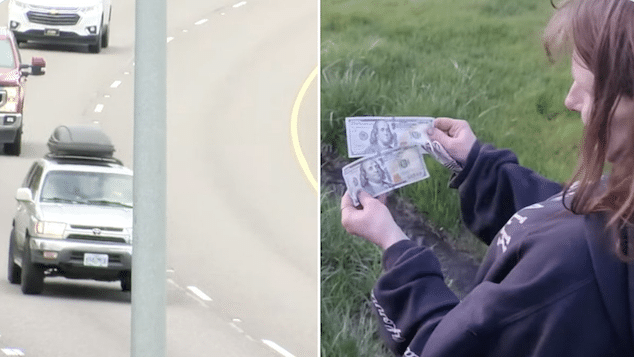 Collin Davis McCarthy throws out $200K out of car window in $100 bills along Oregon highway, draining family's life savings after relative accessing funds in shared account. 
A family has been left on the brink of financial ruin after a relative who shared their joint bank account, withdrew over $200,000 in $100 bills only to then throw the cash out of his car window along an Oregon highway.
Collin Davis McCarthy, 38, rained money on the residents of Eugene on Tuesday as he discarded the cash around 7pm to 'bless others with gifts of money.'
The bills, worth around $200,000 in total, were scooped up by frenzied bystanders on the roadway. 
Dozens scoured the sides of I-5, some even bringing flashlights along to help them find the$100 bills at night, in hopes of getting 'blessed' with some spending money.
'It's hundred-dollar bills floating around and I'm like: "What!?" So my boyfriend and I decided to go one way, he goes the other way and so far I've found 300 dollars!' an unidentified woman told KEZI 9.  
Despite the joyous occasion for bystanders, McCarthy's family has now accused of him of leaving them broke to pull off the stunt.
Unfortunately for the family, police are unable to do much. Since the account is shared, McCarthy has just as much of a right to the money as the other person on the account. 
'Because it's shared, they both have equal interests in the money,' Oregon State Police Officer Jim Andrews told KEZI 9. 
'To prevent something like that happening if you were estranged, you would definitely want to create a secondary bank account and then take out a portion of the money that you believe is rightfully yours.' 
It is unclear what relationship McCarthy had with the other person on the account.  
McCarthy told troopers he threw out around $200,000 worth of cash, but authorities estimate that it was much lower. Within an hour of the stunt, the cash had been scooped up. 
The family is now asking anyone who did pick up the money to please return it to the Oregon State Police. Which is just  cope for wishful thinking.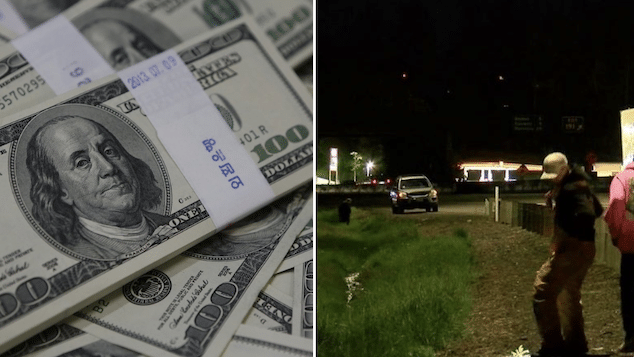 Police had asked McCarthy to stop throwing money around 7.30pm because it was dangerous to drivers and pedestrians, especially in the dark. After the request, McCarthy reportedly ended his trick. 
He was not charged for the stunt, although officers admitted to KEZI 9 that they had considered citing him for endangering traffic. 
'He could have been charged in a situation like this for danger being created because of his actions – disorderly conduct, potentially reckless endangering, but most likely disorderly conduct,' Andrews said. 
'I know the troopers considered charging him with that or arresting him, but after a conversation with him they elected not to.' 
Days after the stunt, reports told of people still combing the side of streets in the hope of coming across cash that may not have been previously discovered.
When police spoke with a relative, they revealed this was normal behavior for McCarthy. Indeed. Which is to wonder, by having a shared account, perhaps the family invited this misfortune to their lives wilfully and wantonly?