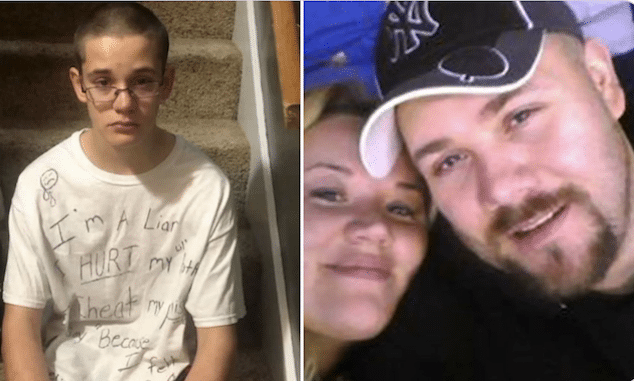 Scottie Morris Indiana teen abused at home by parents,

Felicia and Brian Morris? Teen forced to wear 'I'm a Liar' and 'Cheat' t-shirt found a week after disappearing from home. 
Probably not the parents of the year… An Indiana teenager who went missing for more than a week after his parents forced him to wear a T-shirt with 'I'm a liar' and other seemingly demeaning scrawls was found safe just minutes away from his home, police announced Friday.
Scottie Dean Morris, 14, of Eaton, was found by a Eaton Police officer around 10:30 p.m. Friday near Hartford Street and Harris Street after police had suspended the search for the missing teen on Tuesday, cops said according to a Facebook release.
The missing boy had last been seen around 8:30 p.m. on March 16 in a part of central Eaton that is about a five-minute walk where he was found.
Police said Saturday after Morris was found he was taken to the emergency room at Health Ball Memorial Hospital for a medical evaluation. 
The run-away teen was then 'placed in a safe environment' with the help of the Delaware County Child Protective Services, police said, with investigative interviews scheduled later in the day.
'Please Scottie, we're lousy parents, please forgive us' 
In an update posted on Saturday night, Eaton police said two unnamed individuals were brought in for questioning but 'have since been cleared of any involvement with any part in this case.'
'The family is continuing to cooperate with every aspect of the investigation,' cops said. 
When Morris first was reported missing, police shared a full-length photo of the teen wearing a white T-shirt with the hand-written black ink messages, which included the following scrawlings, 'I'm a liar', 'I hurt my lil brother' and 'cheat' along with a drawing of a crying face on Morris's right shoulder.
The white shirt is believed to be the same t-shirt the teen was wearing along with just a pair of shorts when he went missing.
It remained unclear if the seemingly demeaning image of the teen was shared on social media.
Police later revealed that the boy's parents, Felicia and Brian Morris, forced him to wear the shirt, but said the parents are not suspects and passed polygraph tests about their son's disappearance. 
The parents are thought to have forced the teen to wear the shirt as punishment – though it is unclear what for.
Scottie Morris is in CPS custody ..
I truly hope if Scottie was being abused in any way it all comes to light
Yes having your child wear a shirt with those disgusting wordings on it and recording it. That is a form of abuse pic.twitter.com/QWUawe5XKt

— Leah House (@LeahHou39592660) March 26, 2023
'Scott, I love you and I want you to come home'
At one point, Morris' mom issued an appeal for the boy to return home.
Wrote the mom in part, 'Scott, I love you and I want you to come home.
'I know you are mad and confused and I'm afraid you're scared with all of this. Everyone is looking out for you, we're not trying to scare you. You're not in trouble.
Social media commentators speculated that the T-shirt coupled with Morris' buzzed haircut indicated abuse at home, which Eaton Police Chief Jay Turner said there was no reason to believe.
Authorities previously said the Morris was in 'extreme danger' and 'may require medical assistance.' 
It remained unclear why the boy had chosen to stay away from the family home for the period he did and why he did not seek solace or safety outside the family home.