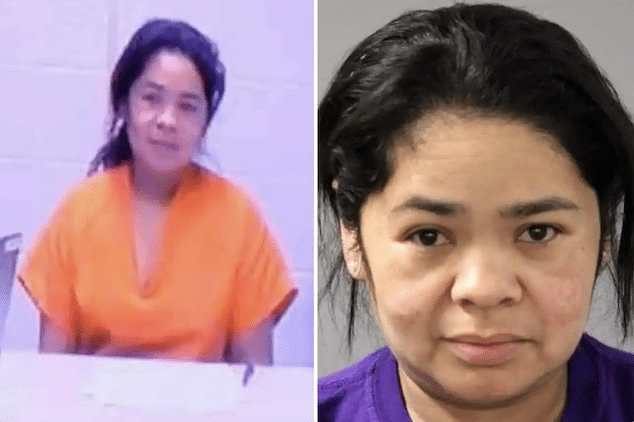 Santos Asucena Caseres Cruz, Whitewater, Wisconsin woman abandons newborn in abandoned field after wanting to keep illicit pregnancy a secret from her family. 
A Wisconsin woman has been accused of abandoning her newborn baby inside a cardboard box in an empty field after the deceased infant's remains were found earlier this month.
Santos Asucena Caseres Cruz, 39, of Whitewater was arrested and taken into custody on March 24 and charged with one count each of neglecting a child resulting in death and moving, hiding, or burying the corpse of a child.
Investigations revealed Cruz 'discarding' the dead baby after having hid her pregnancy from her children after fearing being found out of having become pregnant out of wedlock.
As per LawandCrime: 'According to a criminal complaint filed in Jefferson County Circuit Court, officers with the Whitewater Police Department responded about 11 a.m. on March 4 to a report of a dead baby at the Twin Oaks Trailer Park, about 55 miles west of Milwaukee. Authorities found a cardboard box about five yards from the roadway. Inside was a black garbage bag, a piece of red cloth, and the newborn's remains.
Investigators said the cloth the infant was wrapped in was a blood-stained shirt, according to the affidavit. The baby's umbilical cord was still attached, and police say he still had "ruminants of blood from birth on his body.'
Records: Whitewater mother accused of watching baby die before leaving him in a field https://t.co/O2WPuVt2Hx via @WISCTV_News3

— Leonard Leonard (@Leonard73714140) March 29, 2023
Wisconsin mom concedes having become pregnant and trying to keep it a secret
An autopsy could not immediately determine the cause of death.
Investigators were able to trace the mother after sending the cardboard box for forensics lab analysis and crime imaging. During questioning at the woman's address, one of the woman's children said her former husband claimed Cruz had become pregnant after having an affair and had believed Cruz to have had an abortion.
Cruz dismissed the assertions, describing her ex husband as 'abusive and the accusations untrue'.
During interviews at the house, another one of Cruz's children told police that her mother was in the bathroom on Jan. 27  for a long time due to stomach pain.
The child said there was so much blood that she believed her mother had been hemorrhaging.
After denying having recently been pregnant, Cruz repented, saying she hid the pregnancy from her family because the child's father was not her husband. She believed her family would cut off contact with her if they learned the truth according to The Sun. 
'When her baby was born, he had to have been alive, and she did not do anything, so that is how he might have died,' the criminal complaint stated. 'After the baby was born, he started getting purple. His face started getting purple first, then as the night went on, his body, then his arms and hands. She never helped the baby. She did not call 911 because she was scared of her children finding out she was pregnant.'
The complaint documents Cruz hiding the baby in the box under the sink cabinet, retrieving it around 4:30 a.m., and dropped it off at a trailer park about half an hour later.
Cruz's bond was set at $10K as she is now scheduled to appear in court for a preliminary hearing on April 4. If convicted, Cruz will face a maximum sentence of over 37 years in prison and a $125,000 fine.