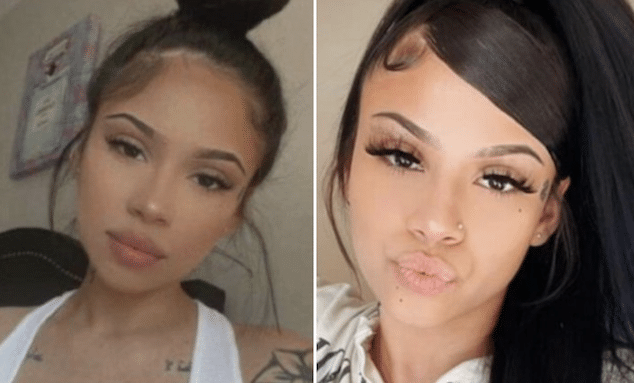 Genesis Escobar, Pregnant Chicago woman killed by drug dealers she was trying to rob in vehicle in the Belmont Cragin. No arrests made. 
A 7-month pregnant Chicago woman was shot and killed by a gang of drug dealers she was trying to rob.
Genesis Escobar, 21, had orchestrated the heist with her boyfriend according to the Chicago Sun-Times.
Escobar climbed into a car parked in the city's Belmont Cragin neighborhood around 1 p.m., when her intended victims shot her in the shoulder, back and hand, police confirmed.
It's unclear if she was armed with any sort of a weapon or how the woman came to target the car's occupants.
Her killers then threw her body into the street and dumped hundreds of dollars on top of the pregnant woman before speeding off, witnesses reported.
Was she in some kind of trouble? 
Escobar's unnamed boyfriend — who had been stationed outside the car during the shooting — allegedly grabbed some of the cash and fled, leaving the gasping expectant mother on the ground. 
Escobar was rushed to a nearby hospital, where she was pronounced dead.
Escobar's baby daughter, expected to be born in two months, was also killed in the shooting.
Escobar — who had been arrested several times in recent years — was on probation for a misdemeanor battery conviction and was under indictment on a felony count of possession of a stolen motor vehicle, court records obtained by the Sun-Times show.
Other charges of retail theft and drug possession had been dropped, court records show.
'I don't know if she was into some kind of trouble,' family friend Iris Alvarez told CBS.
According to Alvarez, Escobar had come to visit Alvarez's daughter just before the shooting.
When Tryna Hit A Lick Goes Wrong: Pregnant Woman Gets Gun Downed In Chicago! 21-year-old Genesis Escobar #sad #TrendingNews #trending2023 #crazyvideo #foryou #Chicagonews #followme #retweetme pic.twitter.com/yjWbNCLioD

— Explosive Reactions1 (@Explosive_React) March 9, 2023
Rising incidents of violent crime in Chicago
'She texted my daughter and told my daughter: 'Please help me! I'm in trouble!" Alvarez said. 'But my daughter was sleeping.'
The two were later awoken by the sound of gunshots and the sight of their dying friend.
No arrests have been made in the shooting as police continue to investigate.
According to the Chicago Police Department's latest report, rapes have shot up by 16 percent so far this year compared to the same time in 2022.
Robberies are also up 13 percent, with aggravated battery and burglaries both up 11 percent.
Theft in the windy city is up 31 percent, and vehicle thefts, specifically, have soared up 143 percent.
Homicides and shooting incidents were the only category to see decreases, falling by 18 percent and 8 percent, respectively.
While overall violent crime is up 52 percent from the same time last year, it's up 102 percent when compared to 2021.