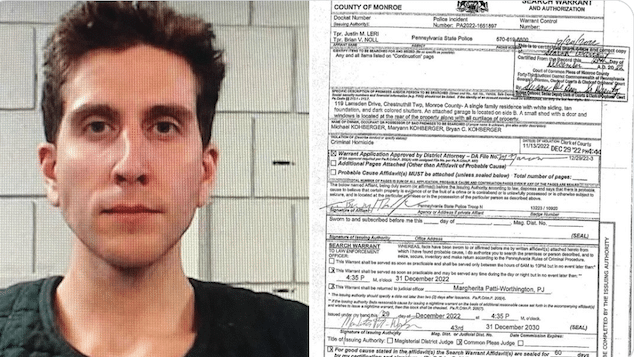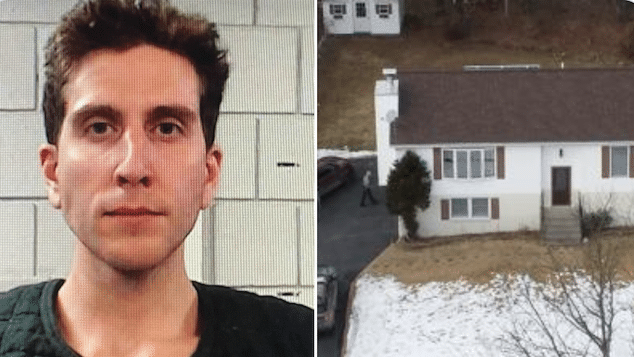 Bryan Kohberger search warrant unsealed of items seized during raid at family Pennsylvania home as questions are raised if the evidence conclusively links him to Idaho college murder scene? 
Conclusive proof of guilt? The full list of items seized by Pennsylvania police from Bryan Kohberger's parents' house was revealed on Thursday and includes multiple knives, a handgun with ammunition and a black mask. 
Kohberger was arrested at his parents' home in Albrightsville on December 30 after driving from Idaho to Pennsylvania with his father.
The items were recovered at the time during a 'tactical' raid on the property and a search of the family home, the suspect's car, the family garage along with a shed on the property.
Cops tied him to the gruesome quadruple murder of four college kids after tracking his white Hyundai to the scene. They also matched his DNA to a sample that was left on a knife sheath found at the scene. 
The murder weapon was not recovered at the house. 
Why the discovery of pair of size 13 black and white Nike sneakers is particularly significant
The newly unsealed warrant reveals cops seizing three knives from Kohberger's parents' property, including one in another sheath. 
Police also seized a 'black mask', which is not dissimilar to the black ski mask described by the surviving roommate who saw the murderer leave the scene on November 13. 
The list also includes a prescription, a 'green leafy substance' in a container, vehicle paperwork and other documents, including a phone bill and a handwritten password, and a book 'with underlining on page 118.'
Police seized 63 items from Kohberger's parent's house. They include: 
Knife

Smith & Wesson pocket knife

Glock 22 Gen S .40 Caliber gun

Three Glock .40 caliber magazines

Black face masks

Black gloves

Black hat and black mask
Multiple items of clothing, books, documents, bills and prescriptions were also seized as part of the investigation. 
One item however has the legal eagles talking – a pair of size 13 black and white Nike sneakers.
A men's size 13 shoe is uncommon. It was previously revealed in the probable cause affidavit that police found a "latent shoe print" in blood at the crime scene.
Additional Bryan Kohberger search warrant released from Pennsylvania. Long list of items seized from his car/parent's house including: Gun, knife, laptop, green leafy substance, cell phone, black gloves, black mask. pic.twitter.com/8CeBm6fWKA

— Brian Entin (@BrianEntin) March 2, 2023
Does seized evidence link suspect to Idaho college murder scene? 
Police had been watching Kohberger for days before they raided the house in the early hours of December 30. Police were looking for anything that could connect Kohberger with the victims, including evidence he had been surveilling them or compiling information.
The 28-year-old criminal psychology PhD student is due back in court in June. He is yet to enter a plea. 
Kohberger is accused of stabbing Maddie Mogen, Kaylee Goncalves, Xana Kernodle and Ethan Chapin on November 13 in a savage, unexplained quadruple murder at the student's off campus residence as they slept. 
The house where the killings took place is soon to be demolished. 
Police say they not only traced his car to the scene, but that they also matched a DNA sample to Kohberger's. 
Another search warrant that was unsealed earlier this week revealed cops also took a flashlight, medical gloves and Kohberger's underwear. 
Unsealing follows unsealing of Washington Pullan property last month
The unsealing comes days after police revealing Kohberger having 'more than one picture' of one of the female victims stored on his phone.
Kohberger also reportedly messaged one of the female victims on Instagram two weeks before the murders.
Police also executed a search warrant at Kohberger's Pullman, WA apartment which was located approximately 10 miles from the crime scene.
The search warrant was unsealed last month.
Police found one nitrite type glove, 13 possible hair strands (one possible animal hair strand), 1 collection of dark red spot (possible blood), 2 cuttings from uncased pillow of reddish/brown stain (possible blood) among other pieces of evidence.
No weapons were recovered.
Kohberger is being held at the Latah County Jail in Moscow, Idaho, without bail. His next court date is Monday, June 26. He faces four counts of first-degree murder and a felony burglary charge.
Kohberger could face a firing squad if convicted since a GOP state lawmaker introduced a new bill that would bring back the method of legal execution.