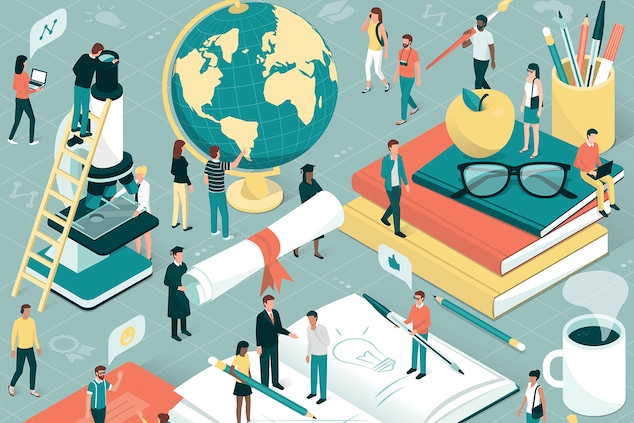 Why do a Phd? The decision to get a PhD degree is a mixture of personals goals and interest. Many students have doubts, here are 4 main reasons why you should do it. 
Having received a master's degree, many students wonder "Should I do a PhD?" It is an individual decision and depends on your goals and motives. But if you do not know what to do, then read our 4 main reasons why students should get a PhD degree.
What's a PhD

? 
It is a postgraduate academic degree that you can get in higher education institutions. Doing a PhD you become a specialist in a very narrow field and submit a dissertation or a thesis based on your researches and results. It supposed to consist of 3 years, but most people prefer to take 4 years. 
To know if you should pursue a Ph. D or a Doctorate degree here's a piece of content by online-phd-degrees.com that can help you.
Why Get a PhD

? 
Make a Contribution 
Perhaps the main reason to do a PhD is the opportunity to do your research. If you enjoyed the academic activities at the undergraduate or graduate studies, then you should definitely apply for a PhD degree. Besides, when you like science, then the thought of your own discovery will motivate and inspire you to study. You can also receive rewards for a contribution to the chosen field. If you write a dissertation of good quality with convincing arguments, then students will refer to your work in further studies, and professors will use it in lectures. What could be better for a science lover?
Become an Expert 
PhD study means working in the same field for many years. You will have to read a lot of books and papers, gather information, and do research to get in-depth knowledge. After several years of hard work, you will definitely become an expert in your field. That is why this degree is highly respected in society. But if your goal is to impress new people or make your parents proud of you, then a PhD degree is not for you.
Improve Skills 
You will receive not only a degree but also get new skills or improve the gained ones. You will work in a team with other graduate students, as well as fulfill writing assignments. You will attend lectures and conferences, and make your presentations by speaking in public. Take into account your scientific activity, you will improve information gathering skills. That is why many people believe that this degree helps to acquire theoretical and practical skills. Besides, your curriculum will not be as structured as at a bachelor's degree. You will have more free time, so you will have to organize your educational process right to write papers on time and achieve goals.
Career Opportunities 
There is another reason why students do a PhD. In this case, a degree of Doctor of Philosophy is not only a way to gain new knowledge and do research, but it also increases the chances of getting a well-paid job. This diploma confirms the special qualities and skills of the employee and gives privileges in the labor market. However, if you plan to pursue a career in the academic field, then this degree will not give you any special advantages because it is like your obligation. Hence, it is valuable for students who are interested in the non-academic job market.
Be Ready For Difficulties 
You should take into account that studying can be difficult and exhausting. You will have fewer classes, but you must attend lectures and seminars. Besides, students should also combine study with teaching assistant activities. So, when they have the thought "Can I pay someone to write a paper for me", then they contact a professional online service. 
If you still have doubts, then we recommend you create a list of pros and cons of a PhD. This method really helps to make the right decision. Remember, you can always turn for help in difficult moments with a request "Complete my papers", and the experts will be glad to assist you. To find a reliable service read some reviews about top writing services on Scamfighter.net.