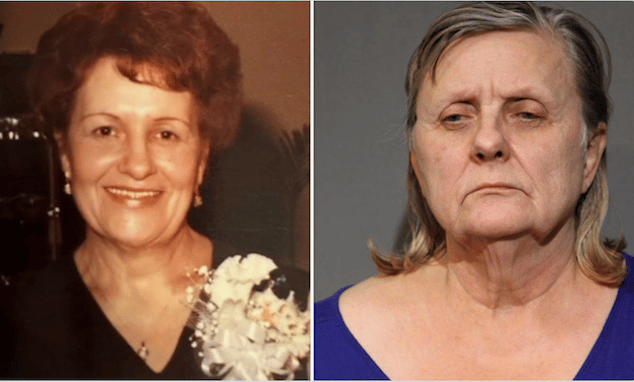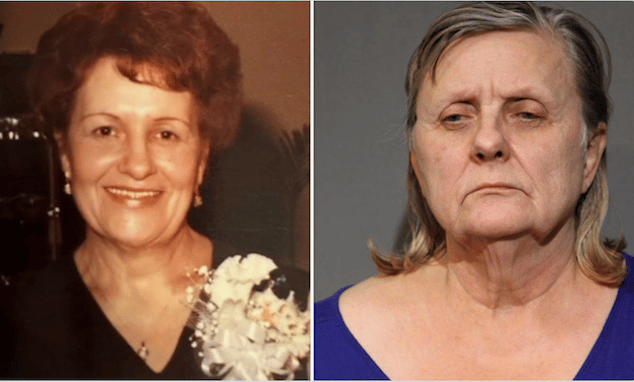 Eva Bratcher, 69, arrested hiding body of her mother

Regina Michalski, 96, in a freezer at the back of a Portage Park, Chicago apartment they shared. Relatives accuse her of cashing dead woman's social security checks. 
Update report: During a Thursday court appearance, prosecutors accused the deceased woman's daughter of hiding her mother's body for going close to two years, saying that the 96 year's old death happened on March 4, 2021.
'It was always about money,' said a relative following the discovery of a 96-year-old woman's body in a freezer behind an apartment complex she shared with her 69 year old daughter in Chicago's Northwest Side.
The body of Regina Michalski was found in a freezer in a garage in Portage Park this week following a wellness check at the behest of a relative. It was when cops arrived at the Chicago Northwest side residence that they came across the macabre discovery. 
Arrested and charged with concealing a body was Michalski's daughter – Eva Bratcher, 69, of the 5500 block of West Melrose Street. 
Following her arrest Monday night, Bratcher was charged with one count of concealing a death and moving a body, and one count of possessing a fraudulent ID card – both felonies.
In addition to the false ID, investigators found a document in the home made to look like it was signed by Michalski – but dated after her apparent death, which Bratcher noted on a calendar as 2 p.m. on March 4, 2021, ABC7Chicago reported.
'It's always been money' 
'My mother has no love – not even for herself,' Sabrina Watson, Bratcher's estranged daughter and Michalski's granddaughter told CBS Chicago. 'No love for humanity. No love for anybody else.'
Asked what may have motivated her mother to conceal her grandmother's death in such a fashion, the estranged daughter replied, 'money.'
'It's always been money. She would steal my identity for money. She did it to my sister. She did it to my husband.'
Watson believes Bratcher, a retired U.S Army veteran who retired in 1994 (after 19 years of service) was collecting her own mother's Social Security.
'I know she was,' Robert Bratcher said. 'That's why she didn't call the police.'
Robert Bratcher was married to Eva for more than 20 years.
'I hope they're following the money on this,' he said.
Sneaking suspicions led to request for wellness check
Mr. Bratcher's conclusions about his ex-wife's motive lined up with what Watson said.
'Her mother, I'm sure, was withdrawing Social Security,' the former husband told CBS Chicago.
It was Watson – a Kentucky resident – who called Chicago Police to make the wellbeing check at the Melrose Street two-flat on Monday. The gruesome discovery followed.
She said she told dispatchers: 'I hope I'm wrong, but I doubt she's alive at 96. So could you please just go to the property and knock on the door or look around?'
Indeed, police found Michalski's decomposed body in the freezer in the garage. A Thursday court appearance saw prosecutors alleging that the mother's body had been in the freezer close to two years. 
A receipt found in the house showed Bratcher purchased a freezer from Abt a week after her mother's apparent death, prosecutors said. 'She did admit that after her mother died, she purchased the freezer approximately a week later and placed her mother in the freezer,' said Cook County Assistant State's Attorney Michael Pekara.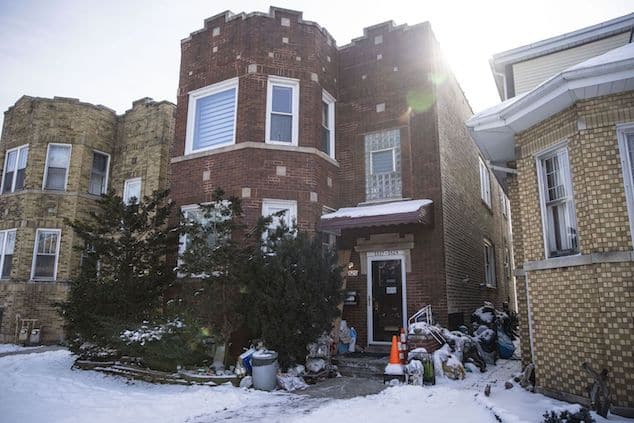 Eva Bratcher history of prior criminal arrests
The granddaughter speaking with WGN News said it had been years since she had last seen her grandmother and that an online search led to no online obituary being found and sneaking suspicions that the woman was nevertheless deceased.
An autopsy had yet to be conducted on Regina Michalski's body, with the woman's cause of death yet to be determined. 
It was while interviewing neighbors, that police were told of the dead woman's daughter having told them conflicting stories about the missing older woman's whereabouts, including her purportedly being in a nursing home in another state. 
'She was telling different neighbors different stories,' said Brigette Yanez, who lives in the same two-flat. 'Like some people, she was saying she was in a nursing home in Wisconsin. To other people, she had already passed away. And to me, she was still talking about her, like she was still alive.'
According to neighbors, Regina Michalski and Eva Bratcher shared the first-floor apartment in a two-flat on Melrose for years.
Bratcher, who also went by Eva Michalski, was arrested nearly a dozen times between 1997 and 2005 and pleaded guilty in 2006 to felony counts of forgery in two cases, according to Cook County Court records cited by FOX32 Chicago. She was also found guilty of misdemeanor battery for which she received a probationary term and had previously been accused of battery, assault, and retail theft.
Court records show Bratcher was sentenced to four years in prison in 2010 for forgery in Lake County, Illinois.
In January of 2006, she pleaded guilty to felony counts of forgery in two cases and was given concurrent sentences of six months in the Cook County Jail and two years' probation.
Police records show that Eva Bratcher completed her probation sentences without complying with the conditions and pleaded guilty to breaking the terms of her release. She was then given two sentences of two years in prison, even though she had already served a sizable amount of time.
'I won't get her checks anymore and I need those checks' 
Two decades ago, as Sabrina Watson's mother was about to go to prison, she gave her 14-year-old daughter a disconcerting order.
If the girl's grandmother should die, bury her under a different name, Bratcher allegedly instructed, according to Watson.
'And I said why? And she said, 'Well if you bury her, idiot, under the name Regina Michalski, I won't get her checks anymore and I need those checks," Watson recalled.
Diane Michalski, one of Regina Michalski's grandchildren, stayed in the same apartment complex as her and Eva Bratcher. Diane Michalski said her grandmother was a Polish immigrant who spent most of her life working for Motorola. Diane Michalski told FOX32 that she hadn't seen her grandmother in 20 years.
'I remember being a kid, and she'd bring some work home and show me the little technology and all the little intricate details that she had to do for her job,' Diane Michalski said. 'I mean, if you want to talk about women in STEM, she was it.'
During Thursday's court hearing, Judge David Kelly said Bratcher would need to post $20,000 bond to be released on electronic monitoring.
Bratcher's defense attorney said she could afford a $5,000 bond but didn't indicate if she would be able to come up with the extra money and, if so, when.
The 69 year old woman was expected back in court Feb. 21.