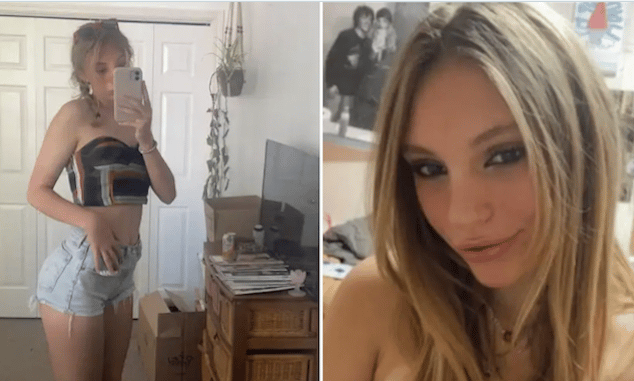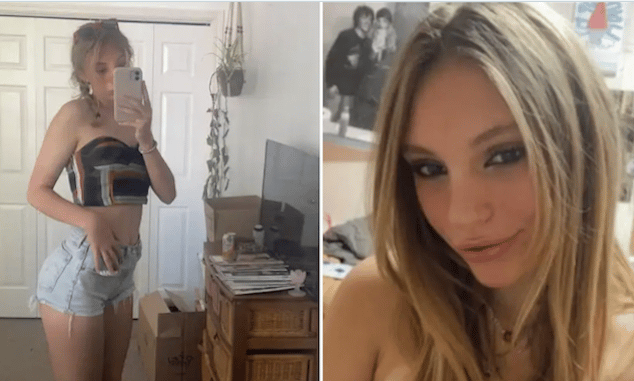 Dylan Mortenson Surviving Idaho roommate claims she was scared to death upon coming across a masked intruder at off campus residence where four roommates were murdered. Lawyer for roommate fails to elaborate why surviving roommate waited 8 hours to call police. 
Unanswered questions. The University of Idaho student who told cops she saw a masked intruder in her house the morning of the quadruple homicide there was 'scared to death,' a lawyer for one of the victims' families said Saturday.
The statement reiterates a previously stated response in a released probable cause affidavit that Dylan Mortenson, 21, shared with Moscow, Idaho police upon coming across an intruder at the six bedroom collective during that led to four roomates slain and two survivors.
Mortensen, according to the affidavit, reported seeing an unknown 'figure clad in black clothing and a mask' walking past her, towards the home's back exit, just after 4 a.m. on Nov. 13.
It wasn't until some eight hours later that Mortenson and the surviving roommate, Bethany Funke, 21, notified police. It remained unclear why the two women waited eight hours before reaching out to police. Also unclear is whether the two roommates sensed any immediate danger or threat? 
Police have cleared both women of any involvement in the four slain roommates' deaths.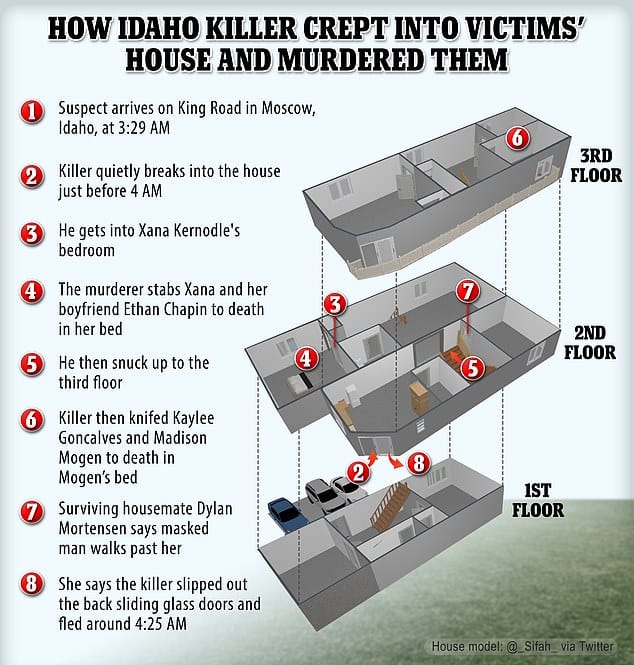 Unanswered questions
Bryan Kohberger, 28, was charged with killing Kaylee Goncalves, 21, and roommates Madison Mogen, 21; and Xana Kernodle, 20; and Kernodle's boyfriend Ethan Chapin, 20.
The lawyer's statement comes as police continue to remain puzzled by the two surviving roommates seeming lack of urgency to reach out to authorities until some eight hours later upon having observed an intruder at the house.
'She was scared. She was scared to death, and rightly so,' Shanon Gray, a lawyer for victim Kaylee Goncalves' family, told Fox News. 'This guy had just murdered four people in the home.'
It remained unclear if the two surviving women were aware of what had transpired in the living quarters where the four other housemates were killed. The two women previously said it wasn't until after police arrived that they were told the roommates had been murdered.
Gray continued to add that the description Mortensen provided to police was 'beneficial.'
'She's a victim in this case. Everybody kind of forgets that,' Gray stated. 'The Goncalves family doesn't have any ill will towards her or anything like that.'
Mortensen according to a probable cause affidavit in the case released Thursday, stated locking her bedroom door after seeing the intruder, with neither her or Funke calling the police until noon. Police think the four students were killed between 4 and 4:25 a.m.
'D.M. described the figure as 5′ 10″ or taller, male, not very muscular, but athletically built with bushy eyebrows,' the affidavit states.
An Idaho law enforcement source stated that the 8 hour window continues to puzzle them and didn't appear rational, while saying the delay may have an 'issue of intoxication, or of fear.'