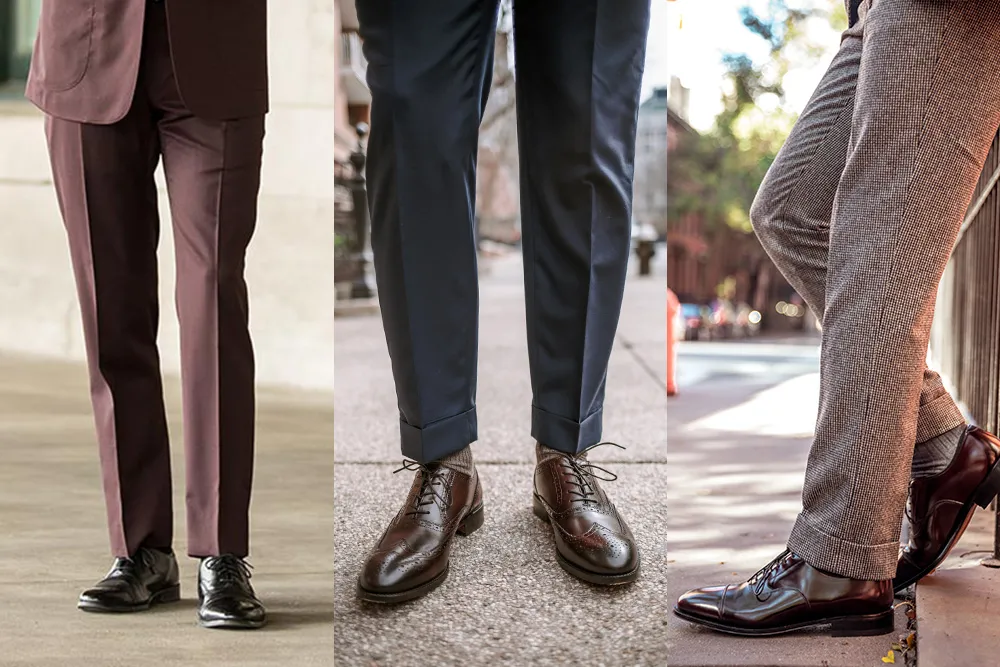 How to style Oxford shoes for formal, business casual smart attire. The three footwear colors to consider and how to perfect the right look for occasion. 
Oxford shoes are the supreme shoe styles that can make men elevate their overall style. This classy shoe always adds a unique touch to outfits, and it can be worn for several looks- such as formal, business casual, and more. Need not say, these timeless shoes are versatile, and they can match with several attires for a smart look. Therefore if you are excited to know the styling ideas of oxford shoes, continue to read this article. 
Now, let's dive deep into the style guide.  
How To Style Oxford Shoes Based On Shoe Color
1. Black Oxford Shoes 
Black is a standard color choice for these classic shoes; you can create a bold or subtle look by wearing black oxford shoes and suits. Always remember the shoe color helps you achieve the fashion goal in your attire. Moreover, the shade of the shoe decides the formality of the outfit. 
For the men, who like dressier style, choose black oxford shoes and you can wear these shoes for formal events. Also, black shoes will go good with most suit shades. If you like to stand out from the conventional style, try matching with a charcoal blue suit. For a stunning look, you can pair with a navy blue suit. If you want to buy some black oxford shoes online, you can consider selecting a perfect one from Bruno Marc. Bruno Marc shoes are affordable and durable and they come in different designs and styles.  
2. Brown Oxford Shoes
Brown oxford shoes can be styled with black ties and versatile suits, and they can be worn for a professional business look. If you never know, next time match gray and charcoal suits with brown oxford shoes. Also, this dress combo can help create a subtle look; since the blue tone gives a warm feeling, and the brown shoes can uplift the blue suit's formality. Indeed brown oxford shoes help create a more interesting look to your overall appearance.  
3. Burgundy Oxford Shoes
 If you like to look fashionable, wear burgundy oxford shoes with a dark gray suit. Though the burgundy shoe is an uncommon shoe color, you can still look charming. So, if you want to create a conservative style, you can avoid burgundy oxford shoes. To make your boring suit look modern, these shoes are the best bet. You can wear a brown suit with burgundy shoes to create a cool casual look. 
4. Tan Oxford Shoes
Tan oxford shoes are informal shoe shades, and they are super versatile. If you want to tone down your suit look, grab tan oxford shoes with your light blue suit. Also, you can pair these oxford shoes with the light gray suit for a refined look. Moreover, the tan oxford shoes go best with khaki pants and jeans too. 
How To Create Various Looks By Wearing Oxford Shoes?
Oxford shoes are the top choice when it comes to formal dressing occasions. But ensure the shoes are in perfect shape without scuffs, dirt and scratches. Also, a little polish is needed to brighten up the overall look. By wearing oxford shoes, you can dress up or dress down with the help of styling tips. 
Formal Style 
Formal events require an elegant dressing style without being flashy, so you can wear plain oxford shoes and pair them with a tuxedo. You can go for patent leather oxford shoes to stay on the formal side. For a sleeker style, you can choose the round-toe oxford shoe and pair it with a black tuxedo. If you like to elevate your formal appearance, opt for slim and narrow oxford shoes. 
Business Style
You can pair dark oxford shoes with a dark suit to create a professional look. Moreover, black dress shoes are the ideal choice to pair with dark brown oxford shoes for a business meeting with a client. You can prefer whole-cut oxford shoes to stay within the business's professional dress code. Also, if you wish to elevate your appearance, wear a white button-up shirt and a black belt. 
Casual Style
The oxford shoes are versatile shoe choices, and they can definitely help you show off your casual style. You can wear oxford shoes in light colors with jeans, and it helps you stand out from the crowd. But you should avoid baggy jeans since they will downgrade your look, so choose well-fitted jeans to match your oxford shoe color. Also, a savvy dresser will choose light-coloured jeans with lighter shoes, and dark jeans with dark oxfords. 
Semi-formal Style 
If you wonder how to dress for a wedding party, choose a suit to pair with oxford shoes, and you can effortlessly achieve a heroic look. By dressing up in a semi-formal look, you will stand out from the crowd. You can pair dark brown oxfords with dark suits and ties for an evening event. Whatever oxford shoes you choose, avoid brogues since they lower the formality of the suit. 
Business Casual Style
For a business casual style, oxfords are the safest choice, and there are wide color and style choices to experiment with outfits. You can wear a gray suit, a black blazer with black or brown oxford shoes. Also, you can wear cap-toe burgundy shoes with suits to uplift your business casual ensemble. 
Smart-Casual Style
If you love to create a fun style, you have various fashion possibilities with oxford shoes. From various shoe color choices, you can go for lighter shades to look casual. Choose tan oxfords with chinos and a blazer for a sophisticated look. If you love wingtip oxfords, you can definitely try them on with your smart casual attires.  
Final Words 
Oxford shoes are a worthy investment for men to look classy. Also, these shoes will make any man upgrade their style and they will perfectly match versatile outfits. So if you exactly know how to style your oxford shoes, you can create various looks and look stunning in each style. Get ready to bring out your best style by wearing the oxford shoes with cozy outfits and be the winner of the show.