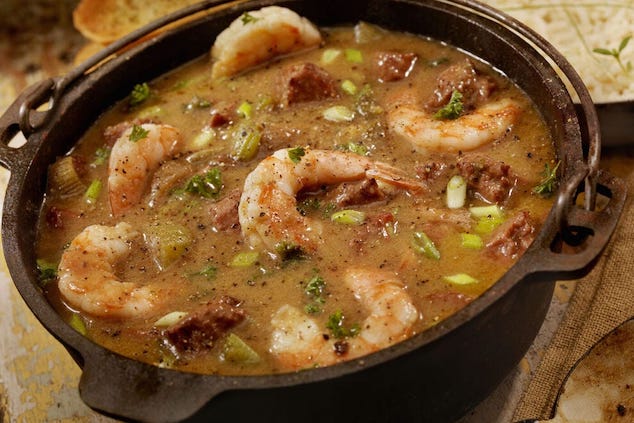 Louisiana Creole Cuisine or Cajun food recipes: What sets these two favorite cooking styles apart and a crowd favorite? 
Louisiana, a southern state of the United States of America, is a region with very peculiar gastronomic characteristics. This state is the birthplace of the famous Louisiana Creole cuisine, a variety of food that evolved from a mixture of Spanish, French, Caribbean, African, and English-American cultures, and resulted in exquisite meals with characteristic and unparalleled flavors.
Some of the most iconic dishes of Louisiana Creole cuisine include turtle or oxtail soup, étouffé, stuffed peppers, jambalaya, dirty rice, and desserts such as bread pudding, beignets, and pralines. 
Just as a sample of that type of food, you can try a Tasty and Simple Red Beans and Rice | Minute® Rice, it's a swift way to enter this rice-based style of meals. 
Or, if you want, keep on reading and you will learn about a distinctive dish of this type of cuisine: New Orleans Red Beans and Rice. This meal consists of beans cooked with onion, basil, smoked Andouille sausage, and a series of spices such as oregano, pepper, paprika and others, with a delicious and loose white rice. 
Red beans and rice as if you were in New Orleans
Ingredients (enough for 6 servings)
1 lb. dry red beans.

2 tbsp of cooking oil.

14 oz of Andouille sausage.

1 green bell pepper.

1 onion.

3 celery stalks.

4 cloves of garlic.

2 tsp of paprika.

1 tsp of oregano.

1 tsp of thyme.

1/4 tsp cayenne pepper.

1/4 tsp cracked black pepper.

1/2 tsp garlic powder.

½ tsp of onion powder.

2 bay leaves.

6 cups of water.

1/4 cup of minced parsley.

1 Tbsp of salt.

1.5 cups of uncooked long-grain white rice.

3 green onions.
How to prepare
Soak the grains in a large bowl of water overnight in the refrigerator, so that they gain some volume by the next day.

Discard the dark-colored water and rinse the beans under abundant tap water. Set aside. 

Cut the Andouille sausage into thick slices or rounds. 

Cook them using a large pot with oil until golden brown. Meanwhile, you can chop the onions, paprika, and celery and crush the garlic on a cutting board. Once the sausage slices are cooked,

remove half of them from the pot

, place them in a bowl and put it in the fridge. 

Add the chopped onion and garlic,the celery and the paprika to the pot. Heat over medium heat and stir the mixture of vegetables and sliced sausages. 

Add the black pepper, thyme, oregano, cayenne, and the onion and garlic powders. Mix well. 

After 2 -3 minutes of cooking, pour the 6 cups of water and add the red beans. Stir.

Put the lid on and bring to a boil over medium-high heat. Then reduce heat to low and simmer for 50 to 60 minutes. Stir occasionally. 

Once the beans soften,

mash them with the back of the spoon using the inner sides of the pot

. Cook  until the mixture becomes thick (about 30 minutes), mashing the red beans occasionally.

While the beans finish cooking, prepare the rice in a separate pot by adding 3 cups of water along with the rice, and heat over high heat until boiling. Let the rice cook. After about 15 minutes, try the rice. If soft, cover the pot, remove from the heat and let it rest for 5 minutes.  

When the grain mixture thickens,

add the sausages you stored in the fridge and add ¼ cup of chopped fresh parsley

. Mix and salt.

Serve the beans along with the rice on a deep plate and add minced green onion on top for garnish. 
There you have! New Orleans Red Beans and Rice are now ready to enjoy. 
Curiosities of Louisiana Creole Cuisine
Red beans and rice belong to Louisiana Creole cuisine. Although some people think that Cajun and Creole cuisine are the same, they have slight differences. Cajun cuisine is inspired by the French farming traditions adapted to the ingredients available in the South of the US by that time. Jambalaya, Crawfish étouffée, Mirliton and Pompano en Papillote are other typical Cajun dishes.
On the other hand, Louisiana Creole cuisine was developed by aristocrats in New Orleans who imitated classic European cuisine with the ingredients used in the southern part of what is now the United States of America. Traditional creole meals are Boiled crawfish, Gumbo, Pecan pie and Boudin sausage.