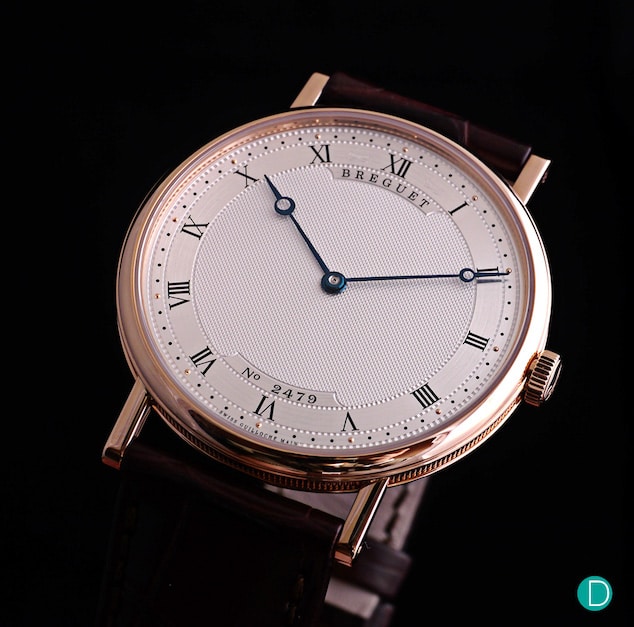 Beginner's Guide to Buying Your First Breguet Watch: From a 250 year tradition come a variety of luxury watches,

The Classique, Heritage, Tradition or Marine dive watch. 
With inventions like the tourbillon, Breguet revolutionized the watchmaking industry when it was founded in 1775. Today, it stands as one of the world's oldest surviving watch companies with a reputation for manufacturing timepieces that represent tradition and cutting-edge technology. 
If you haven't been introduced to this brand, you should know that Breguet is a name that you wouldn't regret exploring. Continue reading and get to know more about Breguet. 
The House of Breguet: An Introduction 
Breguet's nearly 250-year-long success started with founder Abraham-Louis Breguet who developed the first automatic pocket watch and the iconic No. 160—the most complex watch known to man. With these innovations under his belt, Breguet's name soon became associated with quality, accuracy, and precision. 
There are many things Breguet is known for. But, what most connoisseurs are probably familiar with is its association with aviation. In 1935, it started manufacturing chronograph watches, which it later supplied to the French Armed Forces. Among this aviation, models included the Type XX chronograph. These watches were later redesigned and marketed to civilians, providing aviation-inspired models that appear to be the brand's answer to casual men's watches. Type XXI and XXII Breguet Watches were also later developed, offering a wide selection of watches with leather straps, stainless steel bracelets, and equipped with a trio of chronograph functions on the dials. These also boast self-winding movements, weather-resistant materials, and luminous dial elements for legibility, even in dark environments. 
The brand was family-owned until it was passed to Edward Brown in 1870. However, it's now part of The Swatch Group and has transferred operations in the Vallée de Joux in Switzerland since 1976. 
The Best Breguet Watch Collections 
Throughout its history, Breguet has produced some of the most diverse range of watches under its handful of collections. These watches make for the perfect accessory for a business suit, a casual outfit, or even a gift for your loved ones. 
Most of these watches feature the signature Breguet hands, which are characterized by the hollowed-out points of the hands, resembling elegant crescent moons. 
Classique
The Breguet Classic wristwatch is the brand's homage to pocket watches—the product that started it all. This collection is a good place to start if you're after a watch that is the perfect balance between technology and premium quality materials. 
Most Classique watches are housed in materials like platinum and gold cases, both of which add an effortless and stylish appeal to the accessory. They are often presented in leather straps that tuck nicely underneath the sleeves. In the iconic Breguet style, most Classique watches feature blued steel central hands, complemented with traditional Roman numerals.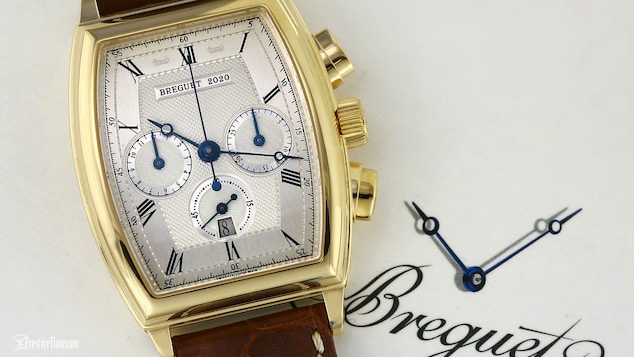 Heritage 
A watch with a tonneau or barrel-shaped case is not usually the type that would catch a connoisseur's attention. But, that just isn't the case with Breguet Heritage. This collection offers models with less of a sporty look and more of a conservative appeal that looks appropriate on formal occasions. 
Even without the conventional round case, it represents the time in a classic way. Many of the watches under this collection have rose gold cases, leather straps, and Roman numerals that are stretched out on the dial. They are delivered with several different patterns on the dial—something that you wouldn't usually find in other watches. 
Marine 
With the traditional Breguet values at its core, the Marine is interpreted in a contemporary way and the results are a wide range of classic, diving-inspired watches with varying complications. Some of the most popular models under the Marine collection include the Big Date, which, as the name suggests, features a large date window at 6 o'clock. 
There's also the Marine Chronograph, Marine Tourbillon, and the Marine Dual Time GMT. Individually, one of the most iconic Marine watches is the Breguet Marine 5817, distinguished for its swirly guilloche dial and big date. Most of them are packed with 100m water resistance that allows you to take a shower while wearing the watch, without worrying about water damage. 
Tradition 
As the name suggests, Tradition pays tribute to Breguet's heritage and time-tested manufacturing methods that have catapulted the brand to so much success. Each Tradition watch pays homage to Breguet's past while injecting but with a touch of modernity through the use of updated features and mechanical movements. 
One of the latest from the collection is the Tradition Automatic 7097BR/G1/9WU which features an open-worked dial that offers a glimpse of its inner workings through the dial surface. A deep silver guilloche-textured, off-center dial features blued steel hands and the signature Roman numeral hour markers. There's also a retrograde seconds dial at 10 o'clock, all housed within a sapphire crystal glass. 
Takeaway 
We've already mentioned the Type XX, XXI, and XXII watches, which are just as in-demand as any of the Breguet watches listed above. All these collections offer high-end, quality watches that make a great investment opportunity. When you purchase a Breguet, you will not only own an accessory that will match your lifestyle but a true horological piece as well. 
Which of these Breguet collections interested you the most? Let us know by leaving a comment.