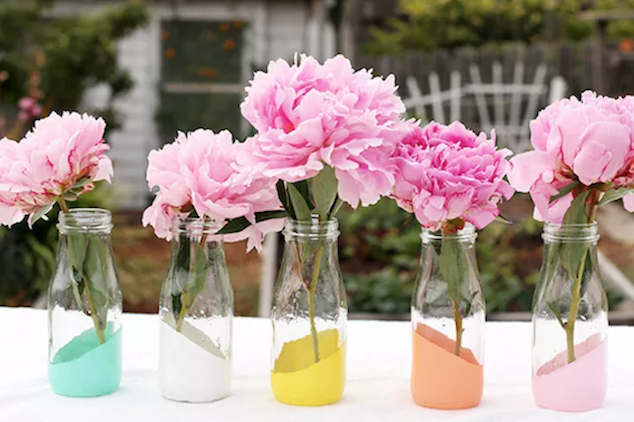 DIY Wedding Decorations to Organize Perfect Parties: from

DIY Decoration Vases, Pennant Banner, Carnival Banners & Lights, flower monograms & much more. 
Planning for a wedding this year? 
DIY Wedding Parties have popped-up to be the best choice during the lockdown restrictions. Whether it is choosing a venue, decoration, finalizing menu, or organizing the whole event – everything is now meant to be planned and organized by the bride and groom itself.
And – Now – It is time for you to be part of this trend.
Although – organizing a perfect event is close to impossible. But – with a few guests on the invitation list, you can ramp up the planning and decoration yourself to keep things on a budget. 
DIY Wedding decorations have already become a trendsetter at this time. 
Whether it is how to make wedding signs, wedding garland, photo backdrop, embellished flower vases, or tissue paper flowers – you can be picky and even creative with the decoration to create a perfect guest experience. To begin with simply break the traditions and create your own sense of style. After all, an event like a wedding happens once in a lifetime. And nothing could stop you from making it memorable. Not – EVEN – the pandemic.
To help you guys celebrate this big day and make the most of it – We are here with some creative decor inspos. These 9 DIY wedding decoration ideas are all you need to organize a perfect dream wedding. 
What are those DIY Wedding decoration ideas? Let's explore further.
  1. Just Married Sign

What could be more fascinating than a Just married sign? It is time for you to start off a new journey in your life. And a just married sign is all you need to welcome the transformation. Create a just married sign and place it on your entrance door or window. Choose elegant letters to keep it aesthetically pleasing and all round fun and exciting. You can also add some stickers and pictures of both together to make it more special and intriguing. Lastly- don't forget to click a candid picture with this sign to keep the memories for a lifetime.
  2. DIY Decoration Vases

Crafty decoration vases are almost as fun as gazing at them along the wedding journey. Flowers, sheaths, garlands, and pots could add a touch of nature with a flowery fragrance to bring sweetness into your beautiful relationship.  Decoration vases are extremely easy to make and it takes some flowers and craft patches to pull-out an ultimate decor for your wedding.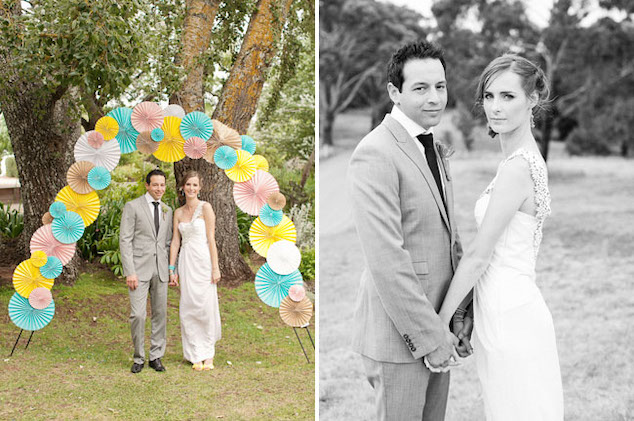 3. Vibrant and Colorful Pinwheels

If you feel like the wedding decoration is missing some vibes – add some cool bright colors in the form of colorful pinwheels. Pinwheels are utterly attractive depending on what kind of paper you choose to craft them and will surely be lending an extraordinary atmosphere to the whole venue. Your theme party could not complete without these decor items. Use them to clean bold everyone around by placing them on the guest tables.
   4. Centerpieces with a Touch of Nature

Flowers are significantly important for the decoration. And undoubtedly they are used over and over again at multiple places at the venue. So, you can use them to glam up the decoration in a jovial way. Use centerpieces filled with flowers to uplift the charm and aesthetic around for a laid-back wedding. The coolest things about these centerpieces are completely easy to make.
   5.  Pennant Banner

Pennant banners have been for long used to decorate small parties and even big ones. Why not indulge them in your wedding decoration to make everything more vivacious. There are multiple designs, shapes, and colors that you can choose for this purpose. And most of the materials are already at home like scrapbook papers and a hole puncher. Within 30 minutes, you would be able to put together a bunch of pennant banners to repurpose the entire venue decoration.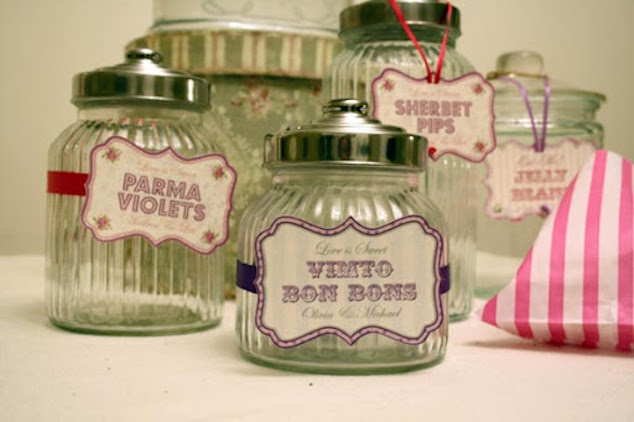 6. Candy Jars

Candy jars are a perfect way to entice not even the kids but also the adults. They are colorful and visually appealing adding a sense of excitement and refreshment. Keep them in a Mason jar, transparent vases, or colorful bowls to add more appeal and style to the overall atmosphere. To make it more exciting, you can choose to mingle different types of candies in multiple colorful packaging or shapes that are easily available at local stores.
    7. Carnival Banners and Lights

No event or celebration could be accomplished without incorporating the perfect lighting. With a colorful lighting you can set-off the perfect mood for the guests and even for yourself. The lights are essential to keep the setting in a particular charm to take things on a certain level. Apart from the lighting, you can blend in carnival banners that would utterly transform the event into a rocking one
    8. Flower Monograms

Use flower monograms to manifest your unwavering love for your partner. Flower monograms not only depict love, passion, and bonding between the bride and the groom but also testifies the profound understanding of the both. And – your initials will do the rest to illustrate the chemistry between the love birds. 
Crafting flower monograms does not need to go extra miles – all you need is cardboard and flowers. Just cut out the cardboard in elegant letterings and rearrange the flower onto it. You can place it on the walls or in front of the photo backdrop for everyone to notice and embrace.
    9. Confetti Cones

The celebration does not have showstopper elements – even the small little things can do the trick to make everyone feel welcoming. Confetti cones are tiny decorations that you can hand over to your guest. Make them using paper and put inside some fresh flowers to send off them in a miraculous way.
Finally
Imagining a dream decoration for your wedding could be literally a bottleneck. While you brainstorm ideas or eliminate the one that have already become the part of someone else's romantic tale – these ideas would definitely not disappoint you to fulfill the fantasies of a romantic wedding.
The more you let yourself express – the more ideas will be there to surprise you at every turn on the significant day of your life.