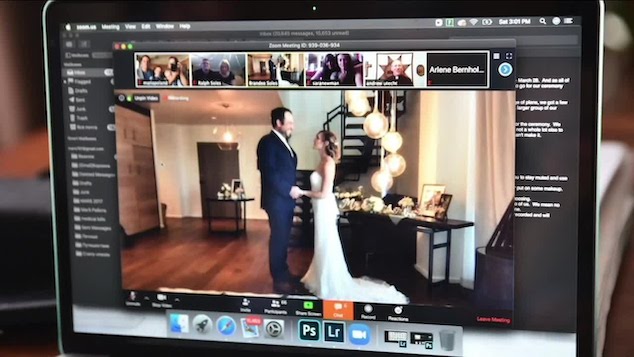 How zoom video weddings are set to be the number one nuptials for the foreseeable future amid the ongoing coronavirus lockdown. 
The Coronavirus pandemic has forced many industries to rethink the way they operate, and one of the most significantly-impacted has been wedding planners. The limitations on the number of people allowed to gather in one place have led to the postponement or cancellation of roughly 450,000 planned weddings in the United States between March and May alone.
Postponing a ceremony will create less risk of financial hardship for couples and wedding vendors alike, but that hasn't stopped the wedding industry in Britain alone from facing a projected $107.5 billion revenue loss.
The uncertainty over exactly when dream weddings surrounded by friends and family can begin again will almost certainly lead to an unavoidable rise in ceremonies and receptions being canceled. However, as the strictness of lockdown measures ebb and flow, a rising number of particularly determined couples have managed to start a trend of their own, allowing them to involve their loved ones in their ceremonies while ensuring that everyone involved was able to stay a safe distance apart.
Even as measures start to lift — the UK, for example, has recently allowed ceremonies of up to 30 people, but strongly recommends against receptions — the Zoom wedding looks set to be the number one nuptials for the foreseeable future.
With that in mind, here's why couples looking to get married this year should consider exchanging virtual vows, and organizing an unforgettable Zoom wedding.
You can keep your wedding (sort of) the same
Sure, you won't literally be surrounded by your nearest and dearest, and you may find yourself with a lot more leftover wedding cake to contend with after the day is over, but Zoom weddings are not as different from traditional ceremonies as you might think. After all, it will be an (extra) special occasion, focused on you and your spouse-to-be — just that rather than the pews of a church, it'll be your laptop screen that's crowded with loved ones. As one recently-Zoom-married bride recently described it: "We thought it would be anticlimactic, but it really wasn't. There were loads of people crying on screen. It was really beautiful."
That also means you can keep working with your wedding planner to bring as many of the details you'd worked out for your big day into this smaller-scale ceremony, from online invitations to decorations and a suitable dress code for your guests. With less money to spend on travel and accommodation, you could encourage your digital attendees to splash out on classic formalwear or a lavish new dress they'll be eager to slip into again once it's safer to celebrate in person.
More people can share your joy
With most people's calendars looking remarkably similar for the time being, your wedding will hopefully bring a spot of brightness to an otherwise drab stretch of time. But holding it online can hopefully bring your celebrations to a bigger group of people, including those who may not have been able to RSVP to the original event.
This equally applies when it comes to the reception, with one virtual wedding planner recently explaining to Zoom that the program's features actually allow for most of the same details as real-life celebrations. These range from patching in DJs and musicians to "us[ing] breakout rooms to create different tables…so that couples can keep their seating chart…then pop into these rooms and speak with smaller groups individually." The tech may have been designed for business meetings, but at a time when we are more eager than ever to connect, it's no wonder so many couples are using this professionally-minded tech to bring as many people into their big day as possible.
Enjoy a more affordable ceremony
With the average wedding costing nearly $34,000, the lower bottom line afforded by a Zoom wedding may well be all the encouragement a couple needs to agree to take their vows online, even once the situation allows for traditional weddings. However, just because the ceremony will be more low-key, that doesn't mean it will be a completely free affair — only the hardiest spouses-to-be should contemplate reckoning with the tech without assistance.
So while you'll theoretically be able to save on the catering, the venue, and the entertainment, keep your wedding planner on hand, and maybe even see if your wedding DJ would be willing to broadcast a virtual set to all of your gathered guests. If anything, your biggest new outlay may end up being on a new digital camera, allowing you to film yourselves exchanging vows in front of a socially distanced officiant, and which you can use to capture memories of your new life together.