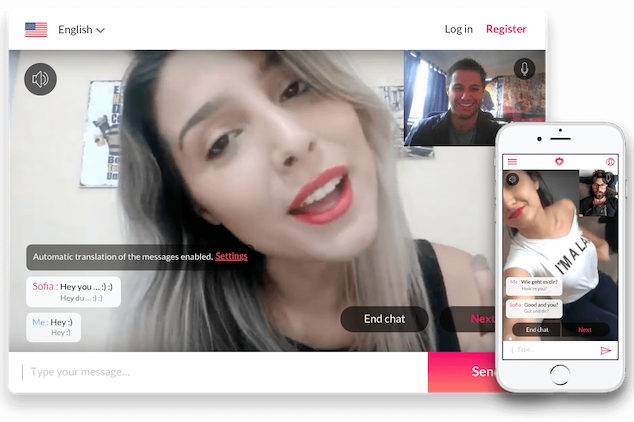 Luckycrush

Virtual flirting by video a review: how one virtual chat site is connecting millions across the globe virtually – but does it really work?

While the world may have been placed in effective lockdown during the ongoing coronavirus, limiting our general movements of where and how often one can get about – what hasn't been tempered is our curiosity and desire to meet other like minded people.

By now most of us have tried a slew of dating apps with mixed results, wondering if there was perhaps another easier way to meet & flirt. Introducing luckycrush, which bills itself as a live random video chat site for those seeking to 'virtual meet' with other willing individuals.

The chat site, created in 2019, is available from desktop and any mobile device, randomly selects two members of the opposite sex and connects them by video chat, in the manner of Chatroulette (a random messaging site created in 2009).

Organizers stress there is no need to download any app — of course one wonders if that feat is in the pipeline? And if you're concerned there might be a shortage of prospective partners, you needn't fret, with the site in the space of one year growing to serve up 1 millions members from over 100 plus countries. Of course there is one caveat- that you are 18 years and or older.
How does it work?
If you're a guy, it'll prompt you to create an account, which doesn't take long.
Users log on anonymously, activate their camera, with users free not to show their face, with other members only seeing the user's username (vice versa) if they choose. The site prohibits the sharing of personal details during chats, guarantee the experience remains safe, anonymous and ephemeral.
Upon being paired with women, gents can chat for free with girls for a few minutes before prompted to purchase minutes. The ladies, on the other hand, get monetary incentives for chatting with guys. Their signup process is a little more in-depth, requiring photos for verification, payment information and more. This is how Lucky Crush is able to guarantee that girls are always available, which is an issue on most random chat sites.
Guys are matched with random girls and girls are matched with random guys, through live video chat. Users can chat speaking out loud or write to each other while seeing each other on webcam.
A simple click on « next » allows to change partner. The chat can last a few seconds or several hours but remains as long as no any of the partners click « next ».
Rules of engagement
The rules of the platform appear when you first log in. Under penalty of banishment, it is forbidden to share any contact information and accept payments from other users.
The account may be suspended if no one is in front of the camera during conversations. On the other hand, it is not necessary to show one's face and nudity is not forbidden… As long as both users agree…
Features
Get paired with opposite-sex partners.
Intuitive, mobile-friendly interface.
"Next" tab lets you instantly skip to another person.
HD webcams used by most girls.
The site is available in multiple languages.
Chat translation tool available.
Ephemeral virtual flirting
Luckycrush stresses that it is not a dating but rather a chat site. It's purely ephemeral. There is no physical meeting. The flirtation is virtual, starts on the site and ends on the site. Users have been know to even use the site to have naughty chats with strangers, anonymously.
Male and female registrations are regulated so that there is always approximately 50% of girls and 50% of guys online at any time. The goal is avoiding guys or girls to wait too much before getting paired up with a partner.
Virtual chat for straight people
Organizers stress the site The current system is optimized for straight people. Through registration regulation, the site seeks to have 50% of male and 50% of female members with a maximum probability of having them interested by each other when they are randomly matched. A same-sex match-making process is under study but would probably lead to a dedicated chat site according to organizers – something to look out for.