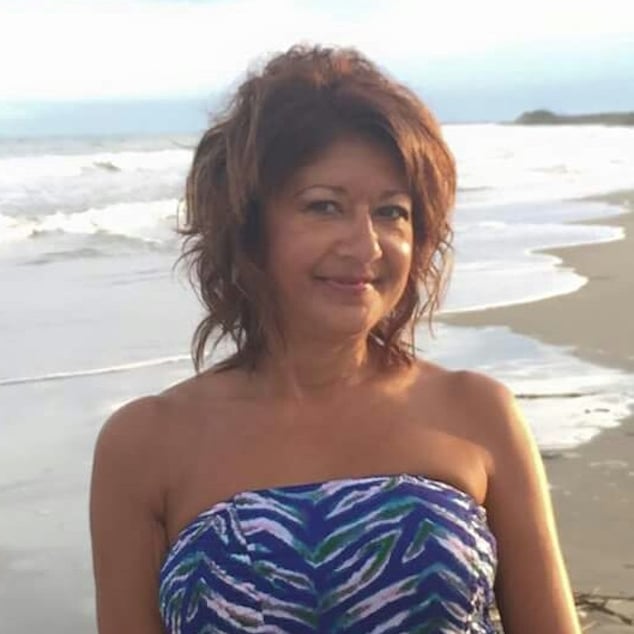 Cynthia Covert Johns Island, South Carolina woman autopsy report confirms woman drowning after being dragged by alligator into pond. 
An animal lover's ironic death….
A woman killed by an alligator at a South Carolina pond told a friend she wanted to get close to the animal and didn't scream as it attacked her and dragged her into the water, according to a police report.
Cynthia Covert, 58, of Johns Island died in the attack Friday afternoon on Kiawah Island, Charleston County deputies said.
Covert, 58, who according to to an owner of a home at the gated community outside of Charleston, whom Covert had come to attend to was acting less professional than normal.
At some point, she had waded waist deep in a pond to 'inspect' an alligator despite being told by the owner the beast had taken down a deer days earlier.
'I don't look like a deer,' Covert responded, according to a police report, before trying to touch the gator.
Covert fell into the water at some point. When she resurfaced, the homeowners tossed her a rope, which she grabbed ahold of.
'I guess I won't do this again,' Covert said, according to the report. But by then it was too late as the alligator lunged behind the 58 year old woman as she sought to make her way away from the pond.
Animal lover who promoted fundraisers for animal rescue organizations: 
The woman Covert was staying with said she didn't seem herself Friday and despite assurances otherwise, had walked toward the alligator, which lunged and grabbed her in its mouth when she was about 4 feet (1.2 meters) away, deputies said.
Covert made no sound as the alligator pulled her under, the woman told police.
The woman's husband and another man tried beating the alligator with shovels, but the animal swam deeper, the police report said.
When deputies arrived, the alligator kept surfacing with Covert and going under. One officer was able to shoot the animal as it surfaced again, police said.
Firefighters used poles to get Covert out of the pond but she died at the hospital, authorities said.
Had

Cynthia Covert been drinking or on drugs? 
An autopsy Monday found Covert died of drowning, Charleston County Coroner Rae Wooten's Office said according to abcnews.
Kiawah Island Mayor Craig Weaver described the tragedy as one that could've been prevented.
'This was not a random act by an alligator to aggressively attack a person in an unprovoked situation,' Weaver said.
Investigators asked the friend if Covert had been drinking alcohol or if she was on drugs, and the witness said Covert came to her home with a glass of wine and that was the only thing she saw.
The Post and Courier reports Covert had been an animal lover, often promoting fundraisers for rescue organizations, and sharing stories about people and their pets on social media. She'd worked as a stylist at Prime Cuts Salon on Seabrook Island, according to her Facebook page.
She's the third person to die from an alligator encounter in the history of the state, according to S.C. Department of Natural Resources records.