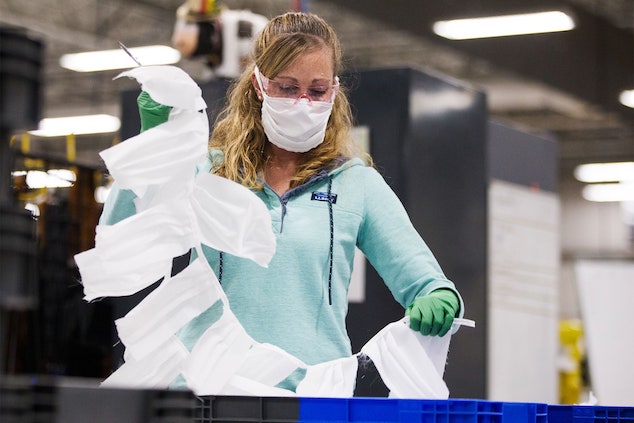 Fashion Brands Respond to COVID-19 pandemic by donating fashion supplies to hospital medical workers and to the community much in need. 
Are you looking for information on the best site to create a free website so that you can keep your fellow fashion fanatics up to date with current events? Or are you simply a fashionista who is looking for his or her daily dose of industry news? 
Either way, you've come to the right place. There's no denying that the world is currently in a state of disarray. No industry is safe from the far-reaching claws of the coronavirus, and the fashion industry is no exception. Let's take a look at how fashion brands are responding to COVID-19. 
Giorgio Armani 
The Armani Group donated €2 million to the National Civil Protection Department as well as to various hospitals scattered throughout the Milan, Rome, and Tuscany regions. In addition to this generous donation, the Group has ceased the manufacturing of luxury goods and is instead using its plants to produce single-use medical overalls. 
Hugo Boss 
The Hugo Boss headquarters in Metzingen has been repurposed to manufacture upwards of 180,000 face masks, which will be donated to public facilities. The brand has also stated that it will be making a sizeable contribution to the British Red Cross's National Emergencies Trust fundraiser.  
Ralph Lauren 
The Ralph Lauren Corporate Foundation has set up a $10 million grant called the Emergency Assistance Foundation for Ralph Lauren, which aims to support elderly members of the community as well as those that need assistance with childcare funding. The brand has also announced that, in collaboration with its US-based manufacturing partners, they will be manufacturing 25,000 isolation gowns and 250,000 masks. Ralph Lauren is the brand that just keeps giving—it has also launched a fundraising drive for The Royal Marsden to purchase specialized COVID-19 testing equipment. 
 

Lacoste 
Lacoste was one of the first brands to get involved in combatting the coronavirus. The brand is in the process of manufacturing 145,000 washable and reusable masks that are being donated to local business owners as well as French government officials. What makes this story even better is that the masks are being manufactured by more than 100 Lacoste employees who have volunteered their time.  
Prada 
The Montone-based Prada factory is in the process of producing 110,000 medical masks and 80,000 medical overalls to healthcare personnel. On top of this act of generosity, the Prada group has also donated two ICU centers and resuscitation units to Milanese hospitals.  
Kurt Geiger 
The Kurt Geiger Group has donated shoes and bags to the value of £100,000 since the epidemic occurred. The brand has also pledged to keep on donating to the NHS over the course of the next few months and aims to donate more than £5 million worth of shoes & bags in total. 
Crocs 
Crocs is often excluded from fashion brand roundups simply because their footwear is more practical than it is pretty, but we've included them in this list for a good reason. Since the COVID-19 crisis began, the Crocs brand has donated more than 200,000 pairs of Crocs to hospital workers and members of the front line. In addition to this, they are also donating £10 from every consumer Classic Clogs purchase. 
Fashion Brands That Have Closed Their Doors 
Many different fashion brands have been forced to close their doors and ride the waves of the crisis, along with the rest of the world. Most brands have closed their distribution centers and retail outlets alike. While the majority of brands are providing compensation to their full-time employees, many have had to let staff members go.  
Here is a look at which top fashion brands have closed their doors for the time being:
– Bloomingdales 
– Chanel 
– Saks Fifth Avenue 
– Supreme 
– Urban Outfitters
– J. Crew 
– Net-a-Porter 
– Nike 
– Everlane 
– Lululemon 
– Macy's
– UNIQLO
– H&M
– Vera Wang 
Conclusion 
As you can see, different brands are reacting in different ways to deal with this crisis not only in the hopes of emerging as unscathed as possible but also to support those who are being immensely impacted by this virus. 
Some brands are getting their hands dirty by manufacturing hand sanitizers instead of handbags, while others have simply closed their doors and ceased their operations. 
What is wonderful to see is that major players in the fashion game are making a difference and will be remembered by future generations for doing so.