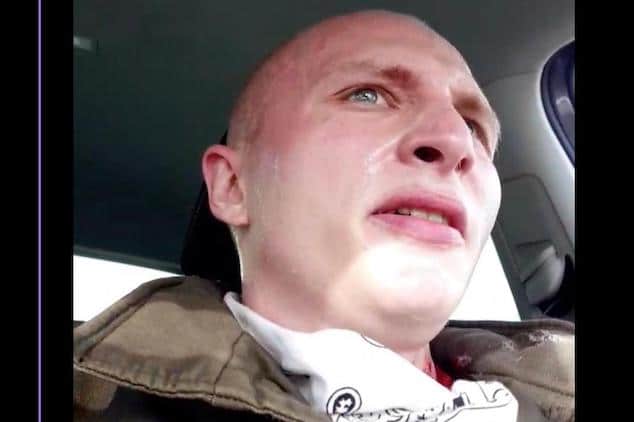 Stephan Balliet Halle, Germany shooting suspect arrested after killing two outside synagogue in new episode of right wing anti semitic extremism. Filmed attack on video. Manifesto now found.
A gunman at a German synagogue decried feminism, immigration and the Holocaust before shooting two people dead in a live-streamed rampage on Judaism's holiest day on Wednesday.  
The shooter, identified as 27 year old man, Stephan Balliet by Bild killed a man and woman, threw a grenade into a Jewish cemetery and left explosives near the synagogue in Halle after failing to force his way inside while worshippers prayed on Yom Kippur, otherwise known as the day of atonement, one of the biggest holidays in Judaism.
Balliet, was arrested after trying to flee in a taxi.
According to German media, the gunman commandeered a taxi by shooting the driver and made it around 40 miles away to Werschen before a collision with a lorry held him up and he was arrested.   
"Is it really necessary?'
Responding to the attack which has unnerved Germany, the country's interior minister said it appeared the assault was an anti-Semitic attack, possibly motivated by right-wing extremism.
Wearing military fatigues and a helmet camera, the gunman shot a woman dead in the street after she confronted him outside the synagogue, where around 80 people were praying.   
Local reports told of the man gunning her down when she asked if his behavior was 'really necessary'.
From there Ballet drove to a kebab shop close to the synagogue where he opened gunfire a second time, killing a man.
It is not clear if either victim was Jewish.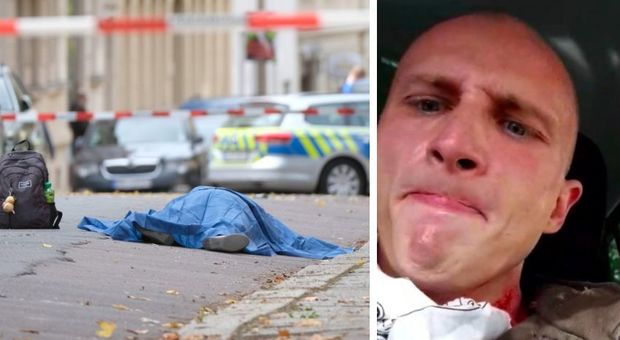 Halle Germany shooting motive: 
Video taken outside the shop shows Ballet firing what appears to be a shotgun into the street, with the man's face revealed as he walks back up the road. 
In the 35-minute video – Ballet bemoaned his failure to get inside the synagogue and talked about the Holocaust, women's rights and immigration, along with blaming 'the Jews' as the root of various problems. 
Witnesses said the attacker also used a submachine gun during the attack along with throwing a grenade into the Jewish cemetery after shooting at the door of the synagogue to no effect. 
Improvised explosive devices were also left outside the front of the synagogue as the congregation barricaded themselves inside.
Halle residents were initially urged to stay inside while police hunted for a possible second attacker, but authorities now believe there was only one gunman.  
At least two other people were injured in the incident and were having surgery on their gunshot wounds on Wednesday afternoon, officials said. 
The suspect himself was also being treated for injuries, police said. Halle police have now handed over the case to federal authorities. 
Residents in Halle, a city of 240,000 people in eastern Germany, had initially been urged to stay at home and the city's train station was closed during a manhunt for possible further attackers. 
However, that lockdown was lifted come Wednesday evening after 'the endangerment level for the population is no longer seen as acute,' authorities said. 
'According to what we now know we have to assume that it was at least an anti-Semitic attack,' interior minister Horst Seehofer said in a statement the dailymail reported.
'According to the federal prosecutor there are sufficient indications for a possible right-wing extremist motive,' the politician said.  
BREAKING: PDF document, appearing to be manifesto of #Halle #Germany attacker Stephan Balliet, emerges online, showing pictures of the weapons and ammunition he used and reference to his live stream. States objective to "kill as many anti-whites as possible, Jews preferred." pic.twitter.com/IpYqY75ywW

— Rita Katz (@Rita_Katz) October 9, 2019
Stephan Balliet manifesto:
35 minute footage of the attack appeared on live-streaming site Twitch, although it is not yet clear whether the gunman posted it there himself. 
The company said it 'worked with urgency to remove this content' and said any account found to be posting or reposting 'content of this abhorrent act' would be permanently suspended. 
Nevertheless the video was managed to be spread by white supremacists, neo-Nazis and others on the far right through other channels, including the encrypted messaging app Telegram, NBC News reports. Many in those communities have been praising Balliet in a similar was as the recent, New Zealand, Christchurch shooter, and other gunmen inspired by him, calling him a hero and "saint."
Of disconcert, an unconfirmed PDF document, purported to be manifesto of Halle, Germany attacker Stephan Balliet, emerged online, showing pictures of the weapons and ammunition he used and reference to his live stream. States objective to "kill as many anti-whites as possible, Jews preferred,' the missive is alleged to say.
Shooting in Halle, Germany was livestreamed on Twitch; ~5 people watched the 35-minute video live and about 2,200 watched before it was removed in ~30 minutes (CNBC) https://t.co/M3TJB8KJok

— CyberDen (@CyberDenUK) October 9, 2019
Rise of East German violence:
The former East Germany, where today's attack took place, has been particularly susceptible to far-right violence since reunification in 1990.   
Just last month, a neo-Nazi 'terrorist' cell based in the eastern town of Chemnitz was put on trial accused of plotting a violent political uprising in Germany. 
Israeli Prime Minister Benjamin Netanyahu also condemned today's attack, saying it was 'a new expression of anti-Semitism on the rise in Europe'. 
Josef Schuster, president of the Central Council of Jews in Germany, said it was a 'deep shock for all Jews in Germany'. 
'This act in Halle on the highest Jewish holiday Yom Kippur has deeply troubled and scared our community,' Schuster, Mr Schuster said in a statement.
'The brutality of the attack surpasses everything we have seen in recent years and is a deep shock for all Jews in Germany. The fact a synagogue was not protected by police on a holiday like Yom Kippur is a scandal.' 
World Jewish Congress chief Ronald Lauder said Germany needs to deliver with 'action rather than words' and provide Jewish institutions the protection they need. 
The incident led to armed police being deployed around synagogues in Leipzig – where an emergency alert was briefly issued before being revoked – and in Dresden, around 90 miles away.
Security was also increased at Jewish sites in Berlin, though no specific threat had been identified. 
German anti-terror prosecutors said they were taking the lead in investigating the shooting, after Jewish leaders said their synagogue was targeted.
The investigation will be a murder probe. 
This manifesto document, which appears to have been created a week ago on October 1, gives yet more indication how much planning and preparation Stephan Balliet put into his attack. His self-made weapons give further suggestion of this. pic.twitter.com/MHmPeyqTKk

— Rita Katz (@Rita_Katz) October 9, 2019
German policy questioned:
Wednesday's shootings came three months after the shocking assassination-style murder of local pro-migrant politician Walter Luebcke in the western city of Kassel, allegedly by a known neo-Nazi suspect, Stephan Ernst.
Luebcke's killing has deeply shaken Germany, raising questions about whether it has failed to take seriously a rising threat from right-wing extremists.
Investigators have been probing the extent of Ernst's neo-Nazi ties and whether he had links to the far-right militant cell National Socialist Underground (NSU).
Interior Minister Horst Seehofer last month warned of the rising danger of the militant far right, calling it 'as big a threat as radical Islamism'.
Seehofer said that police had uncovered 1,091 weapons including firearms and explosives during probes of crimes linked to the far right last year, far more than in 2017 when 676 were found.
At the same time, Germany has also been on high alert following several jihadist attacks in recent years claimed by the Islamic State group.