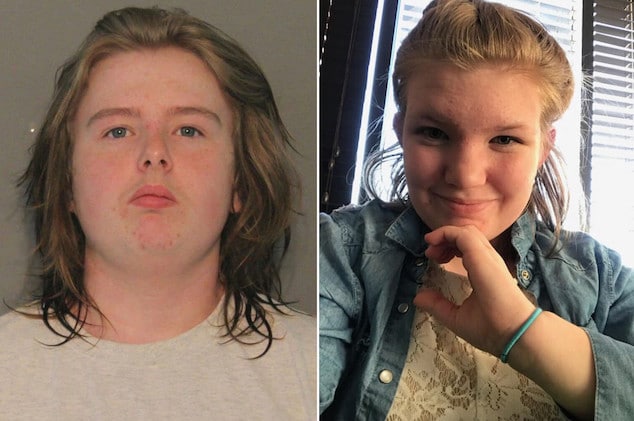 Michael Gavin Campbell South Dakota teen charged in the murder of missing teen girl, Shayna Ritthaler- found dead at teen boy's basement. 
A 17-year-old South Dakota boy has been charged with the murder of a missing teen girl who was found dead inside his basement, according to a report.
Michael Gavin Campbell was charged as an adult Wednesday with second-degree murder in the death of 16-year-old Shayna Ritthaler of Wyoming,  the Sioux Falls Argus Leader reported.
Ritthaler, of Moorcroft, was reported missing Oct. 3 after last being seen getting into a vehicle at the Coffee Cup in Moorcroft, Wyo earlier that day. 
Prosecutors state Campbell confessing to the girl's death after the pair got into an argument at his home near Sturgis. The nature of the pair's relationship wasn't immediately clear.
The complaint said the homicide occurred 'on or between Oct. 4 and Oct. 7.
Sturgis teen pleads guilty to shooting Wyoming online girlfriend dead
Victim's mother posts her daughter was shot dead at suspect's house:
Ritthaler's body was discovered Monday, October 7th, when authorities executed a search warrant on Campbell's residence.
The Meade County Sheriff's Office declined to release a cause of death pending an autopsy.
The court sealed the probable cause affidavit in the case, cutting out access to details in the case.
Ritthaler's mother, MinDee Ritthaler, posted on Facebook that Shayna had been shot. Noted the mother, 'I'm feeling broken.'
Campbell's attorneys asked for a $250,000 bond but Circuit Judge Kevin Krull set his bond at $1 million; saying the court finds the facts of the case particularly troubling KOTATV reports.
The attorney said that he will request the case be moved to juvenile court. He said that his client will plead not guilty at his court appearance scheduled for Oct. 17.
Despite Campbell being charged as an adult the teen can't be sentenced to life in prison if he's convicted as a consequence of being a juvenile – but can only be sentenced to a set number of years.