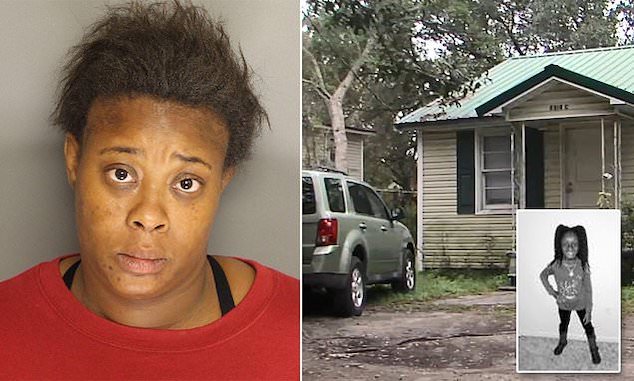 Bernadette Renae-Owens, Hanahan, South Carolina mother, charged after 11 year old son shoots 10 year old sister with loaded gun dead while unattended at family home.
A South Carolina woman has been charged after her 11 year old son fatally shoot his 10 year old sister with an unattended loaded gun at the family home.
Bernadette Renae-Owens, 30, was earlier this week booked with two counts of unlawful conduct toward a child The Post and Courier reports following the October 5 incident.
Hanahan Police also released that they won't be pressing any charges against the boy.
Authorities say Owens left the children alone in an unfurnished home littered with feces and food, and the loaded handgun was in a laundry basket on Owens' bedroom floor.
Cops say the children were playing with the 'unattended gun' when the girl, Cabriya Lucas, was shot. She died before police arrived.
Owens was arrested the next day and released after posting $80,000 bail. Chief Dennis Turner says police delayed announcing the mother's arrest while the investigation was ongoing.
'This just isn't a deceased little 10-year-old girl,' Lt. Cassie Brooks with the Hanahan Police Dept said. 'We have a little boy that made a mistake but it was an accident, and he's suffering right along with the rest of the family.'
'It's a very tragic incident. This is one of the hardest (investigations) I can tell you that I've worked in my 20-plus year career, and I can speak the same for my staff,' Chief Turner said.
'Lives have been changed because of essentially a senseless act, because of irresponsibility,' Chief Turner reiterated. 'You hear about these all the time, you read them in the news. But this was hard.'
Since 1999, 74 South Carolina children have been fatally shot by accident, according to the state Department of Health and Environmental Control.
If convicted, Owens faces up to 10 years in prison for each charge.
Police declined to say who is caring for the 11 year old boy or the whereabouts of the children's father.