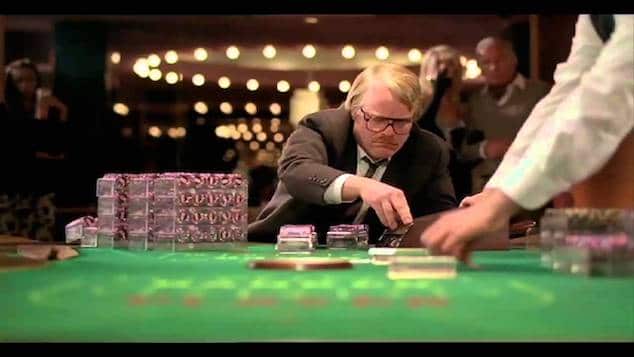 Gambling addiction revisited: How the proliferation of online betting has led to punters losing their life savings in hours & minutes from home as opposed to brick& mortar venues of yesteryear. 
The movie 'Owning Mahowny' was released in 2003. The storyline is based on true events, which revolve around a Canadian bank manager called Dan Mahowny who is played by the late Philip Seymour Hoffman. 
Unfortunately, Dan Mahowny has a serious gambling addiction. However, he also has access to millions of dollars being a bank manager. We're sure you can figure out where this is going, but the entire plot is based on Mahowny stealing millions of his customer's dollars and losing them playing casino games.
If you're familiar with the movie (see trailer below), we're sure you'll agree that it delivers a powerful and potent message about the troubles many people face with gambling. A man who appears to have it all resorts to lying, stealing, and cheating to feed his uncontrollable addiction.
However, the gambling industry has changed dramatically in the 16 years since 'Owning Mahowny' was released. Instead of going into bricks and mortar casinos with suitcases full of cash, many problem gamblers are now sitting at home gambling their life savings away. More alarmingly, they can do this in just a matter of seconds, as all it takes is a simple click of a button.
According to the United Kingdom Gambling Commission (UKGC), statistics for 2018 suggest that 96% of gamblers gamble from their own homes. With the constant technological updates that online casinos and bookmakers are implementing, we can only assume this number will grow further over the coming years.
Therefore, we believe that a remake of 'Owning Mahowny' (based on today's industry) would help highlight the issue to many people who might not be aware they have a problem. Gambling addiction can destroy lives and we believe the spotlight needs to be shone brightly upon it.
Punters who have a flutter on the football each weekend or an occasional spin of the roulette wheel don't necessarily have a gambling addiction, but they must still be aware of the potential dangers. If you're interested in playing at an online casino, it is important to read online casino reviews written by industry experts to understand exactly what you're signing up for.
Reviews dissect sites from top to bottom and can provide a wealth of information. For instance:
Is it licensed and regulated by a trusted gaming authority?

Does it give its customers the option to set deposit limits?

What resources does it have available for problem gamblers?

Having this knowledge will allow you to make an informed decision about where to play and which sites to avoid. There are literally thousands of online gambling sites around but, unfortunately, not all of them are responsible operators.
To conclude, most operators nowadays offer several tools which help customers stay in control of their gambling. For example, you can set daily, weekly, or monthly deposit limits on your account. You can also freeze your account and take prolonged breaks from gambling. If all else fails, you can use the self-exclusion tool and take an indefinite break. 
If you, or somebody you know, is struggling to stay in control there are several organisations such as GamCare and BeGambleAware who can help problem gamblers get back on track. Don't be afraid to reach out to them.