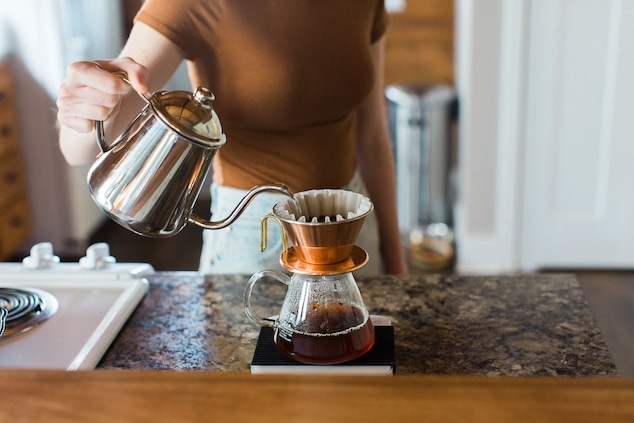 How making coffee at home became America's favorite new pursuit! As forecast trends are set for explosive world growth, coffee drinkers seek inventive ways to enjoy their favorite brew. 
While I might have the knack for figuring out where to get a good coffee while out in public, I singlehandedly fail when it comes to making my own 'delicious' coffee at home. Until one day I decided to change things.
Unlike most Americans (or perhaps the one I first met on the trading floor in a former career), I am no fan of simple black coffee, I demand and appreciate the timeless aroma of roasted coffee beans, the visage of a steamy latte as I first encountered it while living in Italy in my early 20's. But now that I was in NYC, I had to figure out how to bring that European experience into my backyard courtyard. Not that I was the only one.
A report released at the end of 2018 courtesy of the Allegra World Coffee Portal determined the US coffee shop market growing at a valuation of $35.4b with over 35, 616 stores nationwide. The report noted industry leaders anticipating up to 40, 800 outlets by 2023. 
Another study courtesy of Market Research Future (MRFR) predicted the coffee market  poised to touch USD 102,279.2 Mn by 2023 with an anticipated 4.32% CAGR during the forecast period (2018-2023).
Boosting consumption were consumer's increasing sophistication and the continued introduction of refined coffee products. The popularity of the drink combined with its preparation in a variety of ways was also linked to the its global proliferation – with millennials leading the charge. 
Heading off to the kitchen: 
Thankfully there are no shortage of guidebooks or articles (given the ongoing demand) helping kitchen averse consumers such as yours truly from calming down their nerves and having a go.
One good read is courtesy of theeverygirl which breaks down the type of beverage coffee drinkers were seeking to make- whether drip coffee or a pour over or the more exotic cafe latte or espresso or its many derivative forms.
Budget coffee makers include the Chemex method which uses the infusion method – described as the taste of pour over coffee being similar to drip coffee, while the use of a thicker, unbleached coffee filter results in a slower brew — and a richer-tasting coffee than what most users would get from a traditional drip machine.
Other on the go choices included the 6-Cup over the Glass Coffee maker along with the Hario V60.- which allows brewers to make coffee in smaller quantities, pouring the coffee through the filter and directly into their cup.
For those intimidated by making coffee at home (that would be me!) 'The Aeropress' is recommended by experts at Owly Choice as facilitating a good coffee cheap while fairly easy to use. Users pour hot water through a plastic contraption which uses vacuum/plunger tech (or witchcraft) to rapidly filter and brew coffee without bitterness or grit in your cup. Other choices also include the French Press – a European influenced design and rendering which offers a smooth drip coffee experience. 
And there was this baby that I wanted to go out and buy on the spot: the Moka Pot which toots itself as a simpler and cheaper method to brewing espresso at home. Not that I haven't had to move around since moving to the United States and having to figure out which outfits – click here for guide – to help me sort out how and where to get my stuff over all in one piece while saving my sanity. Whatever I have left of it of course….
Coffee beans: Which ones? 
Now that I have described the machines or devices of you and me making a yummy coffee – it is time to discuss how and where one goes about selecting the actual coffee beans to make one's perfect brew. Shall we?
Notes one well researched post via Eating Well: 'Without question, coffee is best when used within days of being roasted. Buying from a local roaster (or roasting your own) is the surest way to get the absolute freshest beans.' 
There are no shortage of vendors roasting their own coffee beans according to their own propriety formula, from Starbucks, this Kentucky, US favorite –find out more here and other specialty makers. Other coffee bean choices Lavazza, Tiny Footprint Coffee and some other specialty makers as according to one coffee blog.
Continues Eating Well: 'Be wary of buying bulk coffee from supermarket display bins. Oxygen and bright light are the worst flavor busters for roasted beans, so unless the store is conscientious about selling fresh coffee, the storage tubes get coated with coffee oils, which turn rancid. Coffee beans packaged by quality-conscious roasters and sold in sturdy, vacuum-sealed bags are often a better bet.'
Who knew? As you can see there are no shortage of methods to make the perfect coffee and coffee beans at your heart's content to enjoy America's new favorite past-time. Which reminds me- can I bum a smoke from someone while I sit in the garden and enjoy my latest coffee brew?