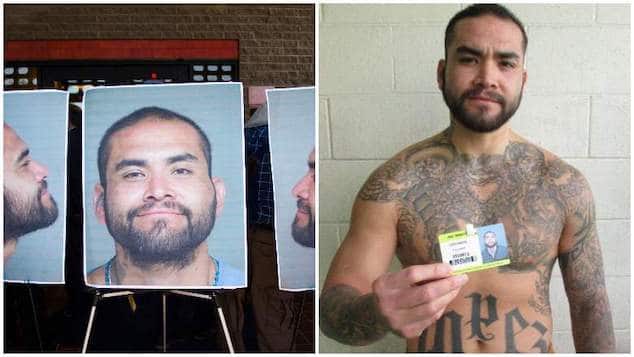 Orange County stabbing attacks lead to four dead and two injured after Hispanic man Zachary Castaneda targeted other Hispanic males at Garden Grove apartment complex before captured in Santa Ana.
A California  gang-member, Zachary Castaneda has been arrested after going on a stabbing and robbery spree that led to four people killed and two others injured over the course of two hours. The violence started in Garden Grove and ended in Santa Ana on Wednesday evening, Aug. 7, authorities said.
It was one of the worst sprees of violence in recent Orange County history, though not the deadliest OCRegister reported.
Police arrested the suspect at a 7-Eleven at Harbor Boulevard and 1st Street, one of eight crime scenes in the two-hour spree that straddled the two cities.
The four dead were said to be all men, two other people were hospitalized in what authorities described as violent robberies. Police have not released any names of the victims,
'There is no threat tonight after this suspect was taken into custody,' Garden Grove Police Chief To DaRe said during a Wednesday night press briefing.
The violence appeared to be random and the only known motives appear to be 'robbery, hate, homicide,' Garden Grove police Lt. Carl Whitney added during the news conference.
Adding, 'We know this guy was full of anger and he harmed a lot of people tonight.'
Zachary Castaneda and all the victims were Hispanic, Whitney said.
Night of terror in Southern California: 
An apartment complex at on the 12000 block of Jentges Avenue appeared to be the staging of the initial violence, with reports of robberies along with two men stabbed to death at their apartments. The suspect is believed to also be a resident of the complex where there are about 40 units, mainly one- to two-bedroom apartments housing families, residents said.
Authorities were then notified of another robbery at a check-cashing business at 12845 Chapman Ave. Police said the man went on to rob an insurance business. A woman, 53, who was working inside was seriously injured.
'This guy was armed with knives,' Whitney said. 'She fought as best she could.'
A series of other attacks also took place including at the Chevron gas station near Harbor Boulevard and Banner Drive. A man pumping gas had his nose nearly severed from his face, Whitney said.
Then, at about 6:15, police spotted the Mercedes a 7-Eleven where the suspect was believed to be driving near Harbor and 1st. A security guard was stabbed there and his gun was stolen. He also died.
Plainclothes Garden Grove officers spotted the Mercedes outside the 7-Eleven and called for back-up from Santa Ana police before the man, who was armed with a knife and a handgun, emerged from the store about a minute later and was taken into custody by the plainclothes officers, Whitney said. The weapons were recovered, he added.
Garden Grove Police Chief Tom DaRé told reporters that Castaneda 'could have injured or killed many other people' had he not been apprehended as he walked out of a convenience store in the neighboring city of Santa Ana, dropping a knife and a gun he had taken from a security guard he had just killed.
The violence appeared to be random.
'He never told us why he did this,' Whitney said.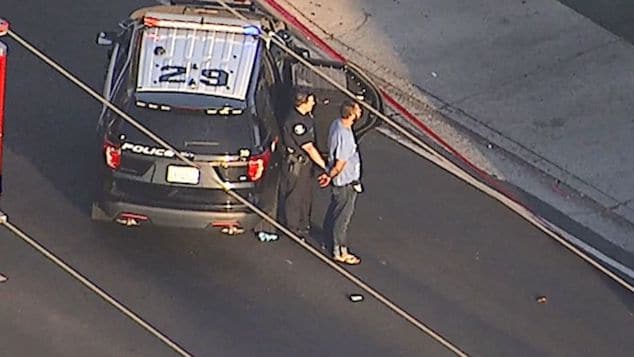 Early release: 'He should have never been back on the streets.'
Castaneda was noted as having a conviction for possession of meth for sale while armed with an assault rifle. Police were still putting together his entire criminal history. Officials to date haven't specified what crimes sent Castaneda to prison or when he was released.
Police Chief To DaRe described the suspect as a 'violent individual,' who should 'never have been considered for early release' from prison.
'Based upon his prior arrest record, he is a violent individual who should have never been considered for early release based upon Assembly Bill 109,' the chief said.
The bill, enacted in 2011, was designed to transfer people convicted of certain classes of less serious felonies from state prison to local county jails.
'As a police chief I implore our policymakers to reevaluate their policies on criminal justice,' DaRe pleaded.
4 dead after series of stabbings in Garden Grove, Santa Ana – Orange County Register https://t.co/nLMJWYwknm

— LauraB (@LauraBintheOC) August 8, 2019
Garden Grove stabbings suspect has prior criminal history:
The man arrested is 33 years old and has a criminal history, police said. He has been arrested before Whitney said. 
Another stabbing had taken place just prior at a Subway restaurant across the street. A customer died in that stabbing.
'These are all random acts of violence, our suspect was not connected to any of our victims,' Whitney said.
Garden Grove and Santa Ana police were working to collect evidence and talk with witnesses, he said.
Whitney said in his 33 years in the department he has not seen a spree such as this. 'You see this once in a career.'