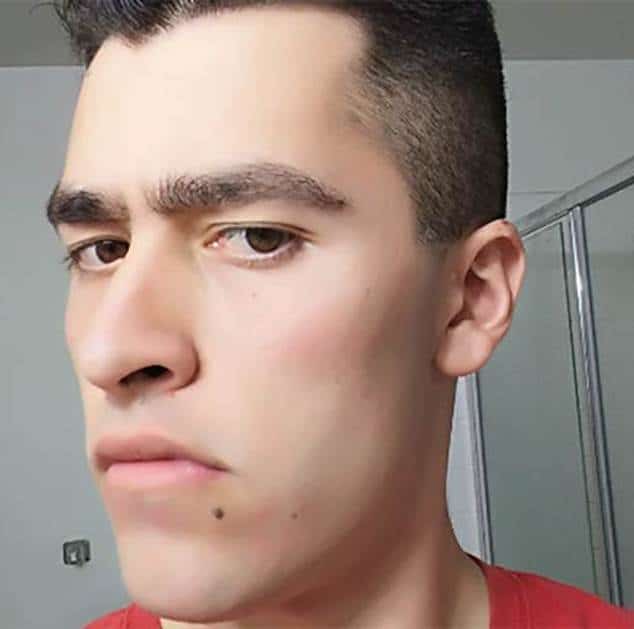 Conor Climo Las Vegas alleged white supremacist arrested after a search of his Las Vegas home revealed stockpile of bomb making material and notebook planning attacks.
An alleged white supremacist has been arrested after feds said the suspected Neo Nazi had accrued bomb-making materials and plotting to attack a synagogue and gay bar in Las Vegas, according to reports.
Conor Climo, 23, drew the attention of investigators after the security guard was found chatting with other racists online in April about making Molotov cocktails and other explosive devices, the Justice Department said following his arrest Thursday morning.
The man was taken into custody after investigators found a stockpile of bomb-making materials during a raid at his Centennial Hills, Vegas home. The racist group was identified as Atomwaffen Division BuzzfeedNews reported.
During a Friday afternoon court appearance, Climo was charged with one count of possession of an unregistered firearm, which federal prosecutors described as 'the component parts of a destructive device,' the DailyBeast reported.
During Climo's deposition, the DOJ told of the man also using homophobic language and allegedly discussing surveilling an LGBTQ-friendly bar in downtown Vegas during his online chats with an undercover agent. The chats had been carried out via encrypted messages.
'Wanted to do something 'generally different' related to his hatred of African-Americans, Jews, and Homosexuals'. 
A search of Climo's home on Aug. 8 led to investigators also recovering a hand-written notebook that included sketches of plans to carry out an attack in Vegas. Also recovered was an AR-15 rifle, bolt action rifle, four 30-round clips, camouflaged packs along with bomb-making materials. 
In one online chat with alleged Neo Nazi's – Climo discussed 'mobilizing an eight man sniper platoon to conduct a shooting attack on Jewish people either at a Las Vegas synagogue or any other area of opportunity.'
The Neo Nazi group has been identified as the Feuerkrieg Division – which has operatives in the UK and Europe. The group- a splinter group of the Atomwaffen Division – encourages attacks against the federal government, infrastructure targets, minorities, and members of the LGBTQ community.
The complaint against Climo noted him saying, he 'wanted to be a part of FKD because he wanted to do something 'generally different' related to his hatred of African-Americans, Jews, and Homosexuals'. 
The 23-year-old allegedly said that he eventually left the neo-Nazi group after becoming 'bored' with 'their inaction.' It was during that time that Climo said he'd recruited a homeless person to help him carry out surveillance on a synagogue that he was plotting to attack.
'Threats of violence motivated by hate and intended to intimidate or coerce our faith-based and LGBTQ communities have no place in this Country,' United States Attorney Nicholas A. Trutanich said in a statement.
In 2016, Climo was featured in a local TV segment about his plan to be a one-man neighborhood watch force on his Las Vegas block. He's seen in the segment carrying a military-style rifle and several loaded magazines. He eventually decided to not go through with his plan following local alarm after the report aired (see below). 
Climo faces 10 years in prison and a fine of $250,000 if convicted.