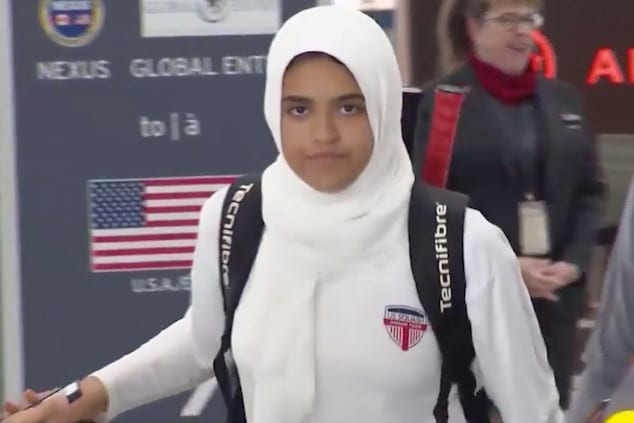 Fatima Abdelrahman hijab drama with Air Canada. Social media has erupted in debate after a 12 year old girl on the US Squash team was forced to remove religious garb afer already clearing security. 
Air Canada has been lambasted on social media after one of their employees allegedly forced a 12-year-old girl to remove her hijab before getting on her flight in San Francisco.
Fatima Abdelrahman, a player on the US Squash team, said she was flying to Toronto Aug. 1 for a competition — and had already passed through security — when a gate agent asked her to take her headscarf off.
'The person at the gate asked me to take my scarf off even though I had already passed security and they had checked my passport,' Fatima told CityNews Toronto.
The athlete asked if she could go to a private area to take off her religious head covering, only for airline employees to refuse, Fatima explained. 
"I said 'I feel like this is an open space what about a room?' And they're like 'no'…" she recalled.
How the hijab became a loaded cultural symbolic metaphor: 
The alleged incident has since led to Air Canada being taken to task on Twitter.
The allegations went viral when Abdelrahman's sister Sabreen called out the airline on Twitter.
"@AirCanada pls explain why you pulled aside my 12yr old sister for flight 758 making her take off her hijab AT THE GATE?? AFTER she already passed security??" Abdelrahman's sister Sabreen posted.
'Thx for ruining her experience as the first U.S. National Team Squash player in Hijab + her first time traveling alone,' the post continued.
The tweet racked up over 5,000 likes and 1,900 retweets — with social media users coming to the young girl's defense.
"@AirCanada do you normally subject your 12 year old solo passengers to unexpected additional screenings AT the gate?" one person wrote. 'This type of treatment is 100% unacceptable. Extremely evident of the lack of training and profiling you allow your employees to get away with.'
The airline responded to the tweet — but referred to Fatima as Sabreen's daughter, instead of younger sister.
'Hello Sabreen, we are truly sorry to hear about this situation and we certainly understand your concerns. May you please DM us your daughter's booking reference so we can better follow-up?' the airline rep posted.
The alleged incident comes in the face of continued hostility towards Muslims who are often portrayed as terrorists and at times the recipient of abject hostility and unyielding rhetoric as many have had to leave war torn regions and make their way to the West. The hijab has become the symbol of intolerance between opposing and clashing cultural values and religious freedom and the claim the hijab is a mark of female repression.
And then there were these comments on social media which caught this author's attention. See what you think?
Because , may be hizaab is the biggest disgrace to spirit of human equality and spirit

— Arun Purohit (@arunpurohit) August 2, 2019
All the sheep claiming racism need to understand that airport security is there to make sure everybody gets to where they going safe and sound. Who cares about racism/hurting feelings/anything else as long as that happens. Complaints like this are stupid. Focus on what matters…

— demosthenes (@AC_hi_) August 3, 2019
Would you make a nun pull off her habit?
Disgraceful. full out racism right there, good job @AirCanada

— Sarah (@sera_87) August 2, 2019
Air Canada asked me to take my sunglasses off at the gate so they could see my face. I didn't tweet and complain about it. Victim Olympics at its finest

— John Warmann (@Inn0vative1) August 7, 2019
That's awful. Why would they single out a 12-year-old in a headscarf? Inside security? That's just so wrong. And sad. Did they offer anything at all in the way of an explanation of what they were thinking?

— Thomas P. Sullivan (@ThomasPSulliva2) August 2, 2019