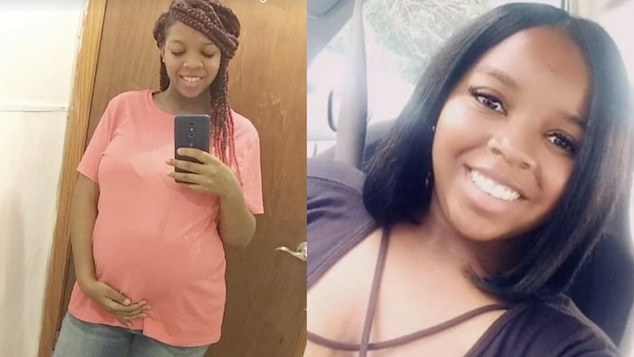 Missing pregnant Mississippi woman, Makayla Winston found dead as authorities seek to determine cause and nature of death. No suspects or witnesses. 
###Update: Missing Mississippi pregnant woman's boyfriend charged with her murder 3 days before birth
The body of a missing pregnant 21 year old Mississippi woman has been found- four days after the woman seemingly disappearing.
Holmes County Sheriff Willie March said Makayla Winston was last seen leaving her home in Goodman, north of Jackson, on Thursday. Her body was discovered in nearby Lexington on Monday.
WJTV reported the expectant mother who was due to give birth July 4th being discovered roughly six miles from an intersection where her car was discovered Friday. Of note, police said the missing woman's keys were found still in the ignition.
Winston's cellphone was located in the grass near the vehicle but it had been erased, according to WLBT. The Clarion Ledger reported that investigators are in the process of trying to recover text messages from the phone.
Investigators believe there may have been a white vehicle parked behind the 21-year-old expectant mom at some point. 'Kind of like an SUV. But no one knows who was driving the SUV,' March told WCSC.
According to Yvetty Brown, Winston's mother, the 21 year old was 'heading to show the sonogram to the baby's father,' only to never show up.
Authorities reportedly haven't identified any suspects and Winston's death remains under investigation.
Winston's body has been taken to a state crime lab in Jackson to determine the cause of death. Authorities have intimated they suspect foul play. No witnesses or suspects had yet to be identified, with Holmes County Sheriff March saying the pregnant woman, 'could have come to harm from somebody who knew her."
Police in Mississippi are asking for your help to find a missing pregnant woman. 21-year-old Makayla Winston disappeared Thursday while on her way to visit the father of her unborn child. Her due date is Thursday.

More from HLN affiliate @WLBT: https://t.co/RN2FOBmtyC pic.twitter.com/antD7aGV8W

— HLN (@HLNTV) July 1, 2019
Hundreds turn out to crime scene where the body of missing 21 year old Makayla Winston was found in Holmes county. pic.twitter.com/iXYOawEfVh

— David Kenney (@WLBT_DKenney) July 1, 2019
The Holmes County sheriff suspects foul play in the disappearance of Makayla Winston. @AlexLoveWJTV spoke with the family tonight about the search to find her. @WJTV @WHLT22 Winston is nine months pregnant. Join us at nine.

— Jade Bulecza (@jbulecza) July 1, 2019