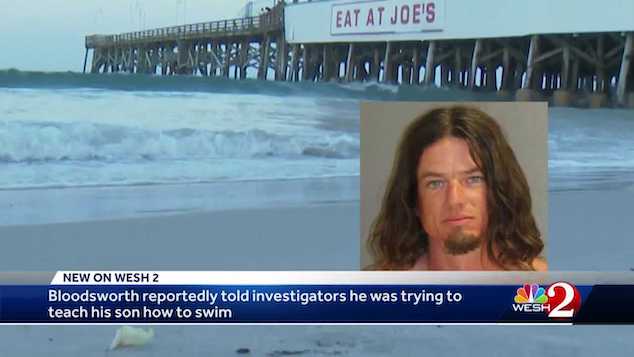 John Bloodsworth Daytona Beach swimming lessons child abuse charges after Florida man observed throwing son off pier and into waves. 
A Florida man has been arrested after being observed tossing his 5 year old son off the Dayton Main Street pier in an effort to teach the boy how to swim.
The 'swimming lesson' led to child abuse charges against 37 year old Florida man, John F. Bloodsworth.
WCJB reported a former Georgia state trooper who was on holidays at Daytona Beach approaching the father, demanding what the father was doing upon noticing the boy 'bobbing' above waves on the side of a pier.
'The little kid was out here by himself. Completely by himself. There was nobody around him, no adults,' Brown told the media outlet.
Brown said others were watching as Bloodsworth would tumble from the pier, swim past his child and throw him into the waves while yelling at him to learn to swim.
Brown brought Bloodsworth to a Daytona Beach police officer who later arrested him.
Spectrum News 13 reported the boy eventually making it back to land, where bystanders dried off the crying boy and comforting him.
According to a Volusia County Beach Safety report, Bloodsworth claimed he was trying to teach his son to swim. The officer who arrested him says the father was clearly intoxicated.
'The kid was already very visibly upset and crying, and he didn't want to be there,' Brown said.
Bloodsworth now faces child abuse and disorderly intoxication in public charges.
While at Volusia County Beach Safety headquarters, Bloodsworth allegedly said he was 'going to jail for being awesome,' and he would be 'coming back to the pier to jump off every day.'
Volusia County records show the defendant is no longer in custody. His arraignment is scheduled to take place on Aug. 7, and is being represented by the public defender's office.
.#daytonabeach man accused of throwing 5 y/o boy in ocean & leaving him there, to teach him to swim. @VolusiaBeach officers arrested John Bloodsworth, who they say was drunk, at Main Street Pier. Witnesses say child cried & struggled while suspect repeatedly jumped off pier. pic.twitter.com/as1nCr3T9c

— claire metz (@clairemetzwesh) July 16, 2019