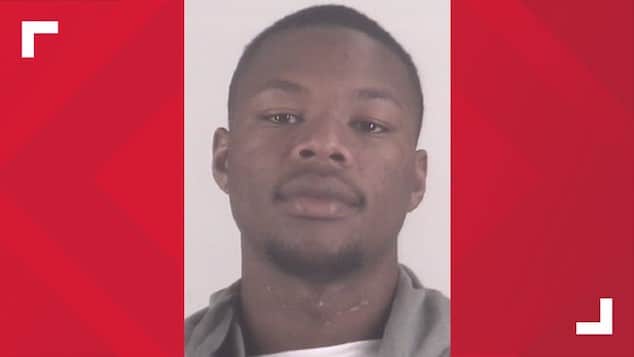 Markevvion Cannon who used children as human shield in Fort Worth standoff killed. Had active warrant for arrest for assault against family members.
A Fort Worth, Texas man who used children as human shields during a standoff has died after being shot by a SWAT officer, cops say. 
Markevvion Cannon, 19, was shot dead after the teen went to visit his ex-girlfriend and their child Thursday when an altercation ensued. 
Fort Worth CBS Local reported officers responded to a 911 call circa 11.30am from a woman 'whispering' that there was a man with a gun inside an apartment near the 2900 block of Broadmoor Drive. 
Officers say when they arrived at the scene, Cannon immediately started shooting from the third floor of the apartment WFAA reported.
According to police, Cannon was holding a 19-year-old girl, 15-year-old boy and 12-year-old girl hostage. 
At one point, police say Cannon used the hostages as human shields and continued to shoot at officers when SWAT arrived.
During the encounter, police said Cannon used a handgun and fired several rounds at the officers. Butt due to the close proximity of the children, officers did not engage with deadly force. They established a perimeter and evacuated the surrounding area of innocent bystanders.
Suspect a career criminal with active warrant for arrest after previously assaulting a family member:
The situation ended when the SWAT team entered the apartment and shot at Cannon after failing to comply with an order to relinquish his weapon Fort Worth police said during a news conference.
A Fort Worth SWAT officer, a nine-year veteran, was identified as the officer who fired a single shot and striking Cannon in the head.
Police later confirmed at a news conference that Cannon dying despite attempts to revive him at a hospital. 
At the time of the shooting Cannon had an active warrant out for his arrest because of assault charges against a family member, police say. 
NBCDFW reported Cannon having a lengthy criminal history including numerous charges of assault, continuous violence against family, evading arrest, theft of a firearm and violating a protective order.
At the time of the shooting Thursday, Cannon was wanted by police for active warrants for continued violence against family members, violation of a protective order and possessing a prohibited substance in a correction facility.
Officers said no hostages or officers were injured during the situation. The hostages were not related to Cannon, police confirmed.   
The Tarrant County Medical Examiner identified the man killed by FW SWAT on Thursday as 19-year-old Markevvion Devonte Cannon, who NBC 5 has learned had a lengthy criminal history and was wanted on several outstanding warrants. https://t.co/W5hwWY9avb pic.twitter.com/IETGSnyupW

— NBC DFW (@NBCDFW) July 19, 2019
Families are being rushed out of the Estrella Apartments @wfaa pic.twitter.com/OgqosgGJ8Z

— Eric Alvarez (@EricWFAA) July 18, 2019