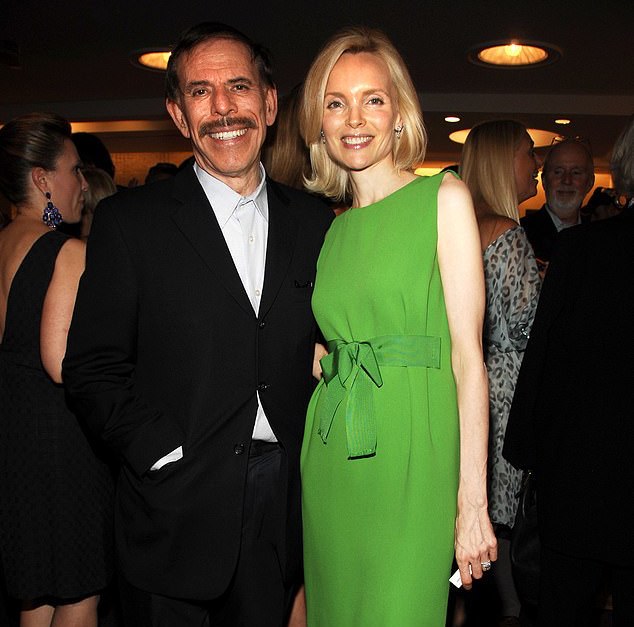 Mary Max suicide: The wife of famed pop artist Peter Max kills herself at her UWS, NYC apartment following years of legal wrangling with her husband's son, Adam.
The wife of world-renowned psychedelic artist Peter Max, killed herself in her Upper West Side, Manhattan apartment over the weekend according to police.
Mary Max, 52, died of nitrogen asphyxiation and was discovered in her apartment on Riverside Drive near West 84th Street on Sunday evening, cops said.
The woman's suspected suicide death follows the wife having been embroiled in an 'ugly legal battle' with other members of the family over her dementia-afflicted, 81-year-old husband's artwork.
At 81, the artist Peter Max suffers from dementia and hasn't painted seriously in years. For some, his decline spelled opportunity. They hired painters—some recruited off the street and paid minimum wage—to churn out work in the Max aesthetic https://t.co/eCzljiRjOO

— The New York Times (@nytimes) June 2, 2019
Mary Max suicide: And suddenly home life became very volatile and public too….
In a 2015 lawsuit, Max's stepson, Adam Max, accused Mary of attempting to kill her husband so she could take control of his multimillion-dollar art collection. The suit alleged Mary Max imparting verbal and physical abuse against his father.
Members of household staff also accused Mary of neglecting her husband, saying she withheld food and even put 'large Brazil nuts' in his smoothies that acted as a choking hazard.
In response, Mary accused her stepson — who is three years younger than she is — of stealing $4.3 million worth of artwork that her husband gave her in a prenuptial agreement. Mary Max also accused her artist husband's son of 'effectively kidnapping' her husband, hiding his whereabouts from her.
Peter, who married Mary in the late 1990s, grew old and frail in recent years and grew ill during the court cases over his fortune.
Peter Max rose to fame in the art world during the pop art era of the 1960s and 1970s.
Of note, Mary was the famed artist's second wife.
He married Elizabeth Nance in 1963 and the pair had two children, Adam Cosmo and Libra Astro, before they divorced in 1976.
He went on to have a string of high profile relationships before meeting Mary Balkin on a Manhattan sidewalk in 1996.
Mary, a blonde with a pixie cut, caught Peter's eye. He approached her and introduced himself saying: 'I've been painting your profile my entire life.'
They married a year later and the wedding was officiated by Mayor Rudolph W. Giuliani.
Despite his counterculture aesthetic, Peter Max became very wealthy doing commissioned works for the most mainstream of clients such as the NFL, FIFA, the Recording Academy and various media companies.
"Andy Warhol with a Mustache" — #PeterMax 2012
IMO a passive-aggressive "eff-you" to Warhol. Andy did not like Peter Max, he felt he appropriated his style. It's passive-aggressive in that the portrait is really a Peter Max self-portrait with Max wearing an #AndyWarhol "wig." pic.twitter.com/Lc8dk4PB9r

— GK Austin (@GK_Austin) June 11, 2019