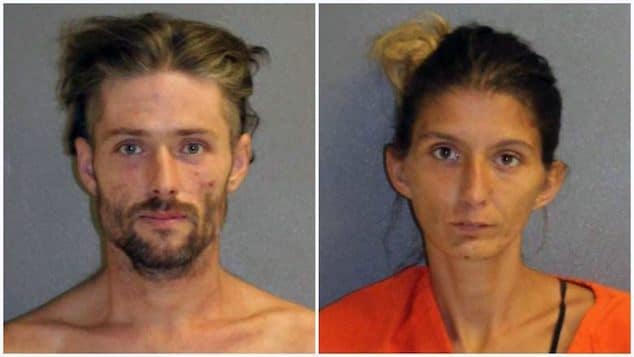 David Dexter and Christian Wilson Florida drug addict couple arrested after a toddler is observed sitting in a bug infested car they were getting high in.
A Florida drug addict couple have been arrested after allegedly using drugs inside a roach infested vehicle while a toddler girl sat in the back seat.
The DeLand Police Department arrested David Dexter, 30 and Christian Wilson, 28, on child abuse and drug possession charges. The 2-year-old girl was turned over to family after receiving care for a neck wound from a cigarette burn that had attracted insects.
A statement said officers noticed drug paraphernalia when they approached the car Tuesday, June 25, after seeing a child and two adults inside a parked car when the temperature was 104 degrees.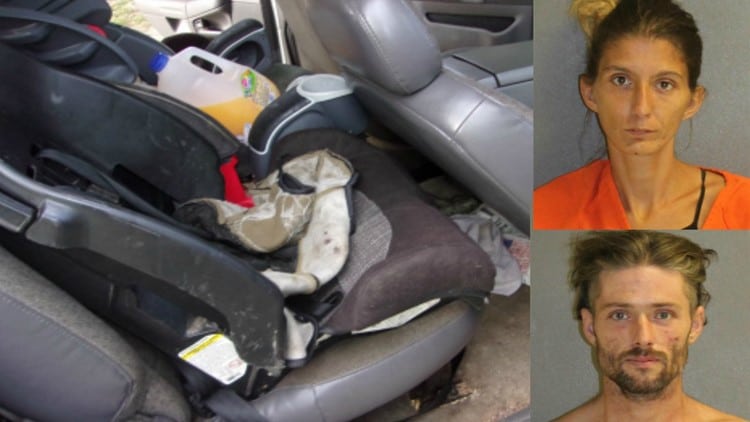 Florida drug addict couple admit to injecting in the presence of toddler daughter:
After seeing two adults and a child inside, an officer observed the car for several minutes, before approaching the vehicles occupants who appeared to be using drugs in plain view WESH reported.
Upon making their way to the car, officers found a needle and bottle cap with an opioid, spoiled food, dirty diapers, and roaches and other insects on the seats with the suspects appearing to be disorientated and likely high. 
Of note- WTSP reported the couple admitting to injecting the drugs in the child's presence.
Police said the toddler was walking around the vehicle wearing a dirty diaper and shirt. Officers said she had scabs on her legs and neck.
The vehicle had insects crawling around, dirty diapers, clothes and spoiled food containers in it, police said.
Officers said the toddler was cleared medically by fire rescue officials and is now with family relatives. No known lawyers were accredited for the suspects.
Not immediately clear is how long the drug addled couple seemingly had been living in the car and what remedies they sought to address their addiction– if any and how long the child had been subjected to the sordid state of affairs.