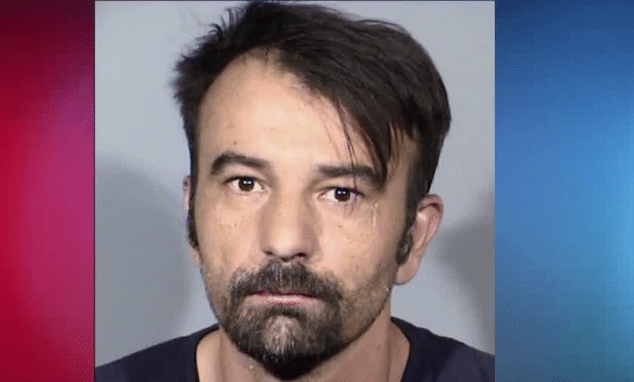 What led to Slobodan Miljus beating his wife to death with a baseball bat at a Las Vegas apartment complex? Incident follows prior domestic call disturbance earlier this year. 
A 37 year old man has been arrested after allegedly beating his wife to death with a baseball bat at their Las Vegas apartment complex over the weekend.
Authorities responded to a call around 4:30 p.m. Friday from a boy in his 'early teens', who said his father had hit his mother with a baseball bat, police said. The boy placed the call from a nearby gas station close to the family's apartment seeking a 'welfare check'. 
Authorities identified the man as Slobodan Miljus, the Las Vegas Review-Journal reported. An incident report described the man lying on a bed next to his wife- since identified as Zvjezdana Bencun – when they entered the apartment through a window after no one answered the front door. Miljus appeared to be uninjured when police found him.
Police said the victim- in her 30's- had blunt force trauma wounds on her head with police discovering an aluminum baseball bat inside the couple's apartment located in the 9500 block of West Sahara Avenue. The victim was pronounced dead at University Medical Center.
Following his arrest, Miljus was charged with suspicion of first-degree murder and booked in the Clark County Detention Center. Police declined to publicly release the woman's identity. 
KOLOTV reported the cause and manner of the victim's death will be released by the Clark County Coroner's Office.
Family in Bosnia identify 33-year old Zvjezdana Bencun as the woman who was murdered Friday. Police say Bencun's husband bludgeoned her with a baseball bat. @News3LV pic.twitter.com/me3OJMGZQt

— Antonio Castelan (@AntonioNews3LV) May 20, 2019
Slobodan Miljus wife wanted a divorce:
News3LV speaking with the victim's family in Bosnia described the victim as a 'sweet woman'. Family members believe the wife's death may have been sparked by the fact that Bencun had been seeking to divorce her husband of 13 years.
Of disconcert, Metropolitan Police Department homicide Lt. Ray Spencer during a press conference said authorities had previously responded to a domestic disturbance call involving the same couple earlier this year. Officers in a February episode had responded to a domestic disturbance call involving the couple at a different apartment complex. 
Police urge anyone with any information about the killing to contact the LVMPD Homicide Section by phone at 702-828-3521, or by email at homicide@lvmpd.com. To remain anonymous, contact Crime Stoppers by phone at 702-385-5555 or on the internet at www.crimestoppersofnv.com.