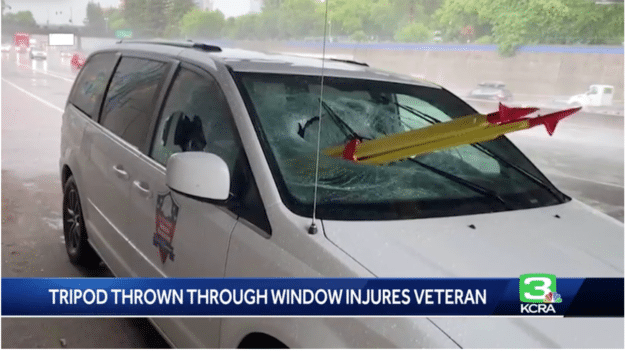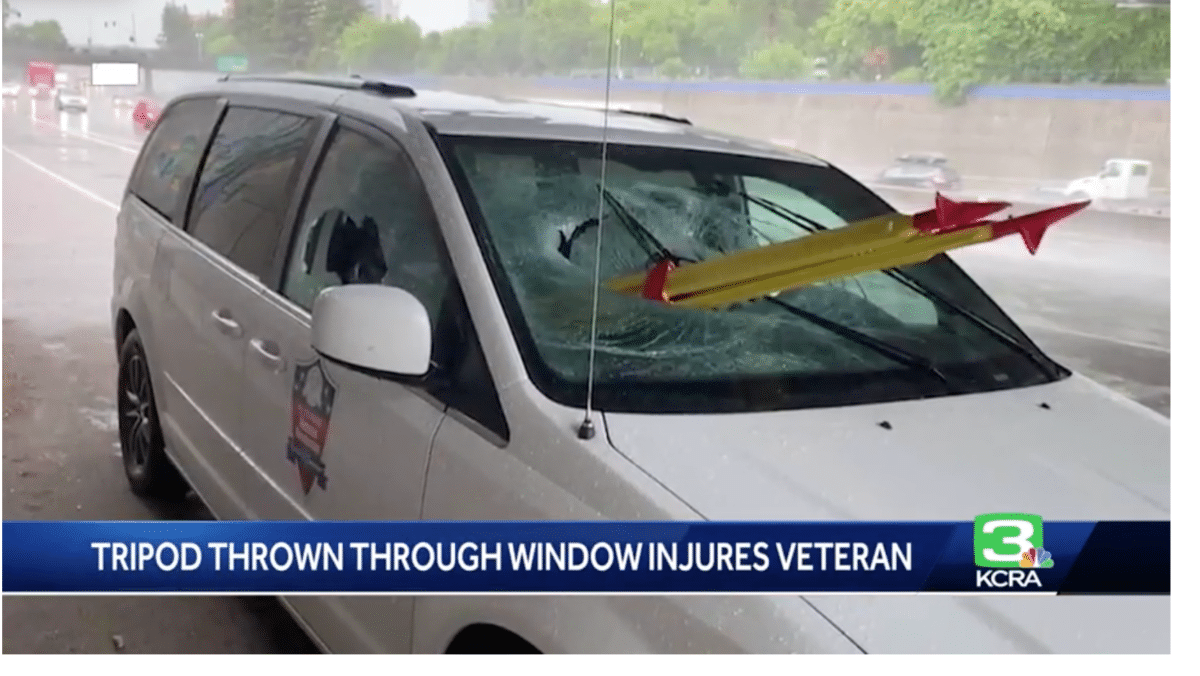 Sacramento passenger impaled by tripod: A veteran sitting by the passenger side of a moving vehicle survives after Matthew Adam Thompson throws surveying device into Tim Page's car. 
A passenger sitting in a vehicle traveling along a Sacramento freeway has had their lung punctured after 'somebody' stole a tripod from a California Department of Transportation crew before dropping it onto traffic below.
The driver of the van, a volunteer veteran, Tim Page, tells KCRA-TV that he was on Interstate 5, Thursday morning when the yellow-and-red tripod smashed through the glass. He says it went through his passenger's lung and popped out.
The victim- also a veteran survived but with broken ribs and a partially punctured lung.
'I saw a yellow something out of the corner of my eye,' Page told via KCRA. 'When it hit the windshield, then I ducked and kind of bent over, a little late of course. And when I straightened up and looked over, that's when I saw this through the windshield.'
'It was like a dream, for lack of a better description,' Page added. 'It was very scary. And of course, seeing it with no blood spurting out was great, but at the same time, injuries don't always have blood.'
'Part of his shirt went into his lung as well, so it was a little scary later,' Page reiterated. 'At the time, he didn't even want to call an ambulance.'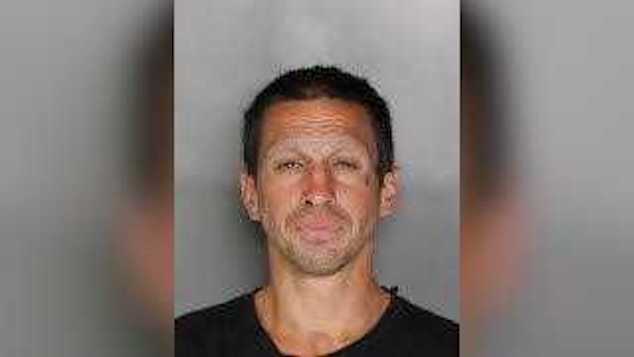 Authorities say a 32-year-old man- since identified as Matthew Adam Thompson allegedly threw the tripod was arrested on a warrant but may face a charge of attempted murder.
The suspect was arrested after matching a man filmed stealing the tripod shortly after.
Authorities say Thompson launched the tripod into traffic from the 2nd Street overpass near Front Street after stealing it from a Caltrans survey crew.
Thursday's incident follows Page who volunteers with El Dorado Veteran Resources having momentarily picked up the passenger from the airport.
'I could've lost control of the van. We both could've been out in traffic. I mean, there's numerous things that could have happened but didn't,' Tim Paige contemplated. 'You know, it's — life's a wonderful thing when you don't look at the bad part of life, you know, the miracles of life are great.'
It remains unclear why the suspect threw the surveying device onto traffic below.