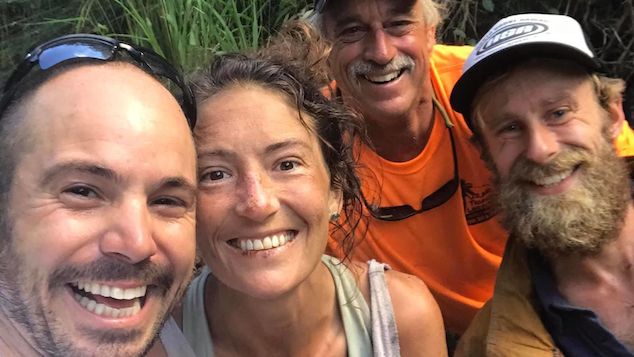 Missing Maui yoga instructor Amanda Eller found: survived 16 days living in Hawaii wild forests. Discovered 4 miles from where her car was parked. 
A Maui yoga instructor who has been missing for 17 days was on Friday found alive in a Hawaii forest- with the woman revealing she had survived after living off plants and water.
Amanda Eller, 35, was last seen earlier this month after setting out for a 'relaxing' hike on the Makawao Forest Reserve trail in Maui. Her car was found at a trailhead with the key hidden under the driver's side front tire. She apparently went hiking without her phone.
She was spotted in a creek bed between two waterfalls by a crew of searchers in a helicopter, led by former Special Operations Airborne Ranger Javier Cantellops, the Honolulu Star Advertiser reported. Hundreds of volunteers had looked for her in the steep jungle.
Responding to the discovery of the missing yoga instructor, Eller's mother said she was 'incredibly grateful' by the news.
'Elated. Excited. Ecstatic,' Julia Eller, Amanda's mother, told via KGMB. 'I can't even put it into words.'
DRAMATIC RESCUE: Two weeks after disappearing during a hike in Maui, Amanda Eller flagged down a helicopter and was airlifted to safety. https://t.co/gjekTwVyYk pic.twitter.com/354lI4er82

— CBS News (@CBSNews) May 25, 2019
Amanda Eller statement: 'I chose life- I had to make a decision.'
Eller was able to wave down a helicopter from a creek bed between two waterfalls, said Sarah Haynes, a volunteer who helped organize the search. 'She is just as strong as we always said she would be,' Haynes wrote on Facebook. 'We knew she could make it this long.'
A Facebook page dedicated to the search said she was only 'slightly injured' and said the privately-owned helicopter had been funded by public donations.
Photos (see below) also showed Eller's feet with what appeared to be cuts and infections. Eller is also believed to have suffered from severe sun exposure.
'I think she took a good fall. They found her in a deep ravine, basically unable to get out, as I understand it,' said John Eller, Amanda's father, in an interview with Maui 24/7.
Following her rescue, Eller gave a speech from hospital describing the days of being lost and refusing to give up.
'The last 17 days of my life have been the toughest days of my life,' Eller said in the clip. 'It's been a really significant spiritual journey that I was guided on and there were times of total fear and loss and wanting to give up, and it did come down to life and death, and I had to choose. 
'I chose life. I wasn't going to take the easy way out, even though that meant more pain and suffering for myself.'
The area where Eller was found is believed to have been roughly four miles from where her car and cell phone were discovered on May 9, in the parking lot of the Kahakapao Loop Trail of the Makawao Forest Reserve.
It remained unclear how Eller became seemingly disorientated and was unable to make her way back to her vehicle and point of origin. The missing woman's discovery comes after local authorities having called off the search for her – with private donations keeping a search going for her. It remained unclear why local authorities resisted continuing their search for Eller- who owes her life to the community's belief and resolve that she remained alive.
16 days.

Missing in a dense forest of Maui.

Still unbelievable.

Amanda Eller round alive in a ravine by a waterfall; spotted by a chopper paid for by donations.

Incredible how things happen.

What a second chance.

Can't even imagine her thoughts in these past two weeks. pic.twitter.com/pwQwxVRxe9

— Marina Marraco (@MarinaMarraco) May 25, 2019