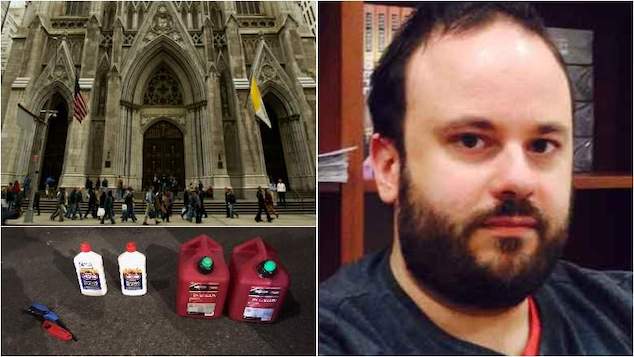 What was Marc Lamparello up to when he was arrested at NYC's St. Patrick Cathedral after entering the historic church with gas cans and lighter fluid?
What was he up to? This was the burning question following the arrest of a 37 year old N.J man after walking into NY's St.Patrick's Cathedral with four gallons of gasoline, lighter fluid and lighters.
Marc Lamparello's arrest Wednesday night comes off the heels of Paris' landmark Notre Dame cathedral sustaining massive fire damage earlier this week- the cause of which has yet to be explicitly stated.
Local media reports told of Lamparello entering the historic Midtown Neo-Gothic-style cathedral- which has stood as a symbol of the Roman Catholic Church since 1879 – about 8 p.m. with the flammable paraphernalia, only to be 'quickly intercepted' by church security. During his 'interception' – Lamparello still managed to spill gas, prompting guards to alert counter-terrorism cops stationed outside the church.
When questioned, Lamparello claimed he was simply cutting through the church to get to Madison Avenue because his van, which was parked outside on Fifth Avenue, ran out of gas, NYPD Deputy Commissioner for Intelligence and Counterterrorism John Miller said at a press conference outside St. Pat's Wednesday night.
A search of the 'church visitor' revealed Lamparello's tan mini-van was in fact not out of fuel – with the 'suspect's' 'answers inconsistent and evasive,' according to Miller. The Deputy Commissioner noted Lamparello during questioning remaining 'conversational'  and 'cooperative'. Indeed. 
Reiterated Miller, 'I think the totality of circumstances of [an] individual walking into an iconic location like St. Patrick's Cathedral carrying over four gallons of gasoline, two bottles of lighter fluid and lighters is something that we would have great concern over.' 
Miller went on to note Wednesday's incident is 'very suspicious' — especially given it came just two days after Paris' Notre Dame cathedral erupted in flames. The incident follows what is supposed to be a very holy week ahead of Easter celebrations for Christians the world over. 
Added Miller, 'His story is not consistent, so he's having conversations with the detectives right now. I think if you add to that the events at the iconic location of the fire in Notre Dame this week and all the publicity around that.' 
Asked whether Lamparello was now a suspect of potential terrorism, police responded, 'It's too early to say that. It's hard to say what exactly his intentions were.'
But it gets better and weirder too.
Marc Lamparello: 'Does God really exist?' 
Lamparello has since been revealed to be a CUNY student seeking his Ph.D. in philosophy- having previously done stints as an adjunct lecturer at Lehman College. 
Lamparello also held previous stints as a music director at St. Joseph's Church in East Rutherford, New Jersey, for the years, 2011, 2012 and 2013, according to a church bulletin posted online.
Reported heavy: 'Marc has been heavily engaged in the study of philosophy from an early age, and is currently working on two other book-length projects, including a witty dialogue on arguments for and against the existence of God, and a series of essays on the epistemology of practical motivation.'
Existence of God? With gasoline cans and lighter fluid?
Cops told of initially recovering two red, 2-gallon cans of gasoline, as well as a bag containing two bottles of Kingsford lighter fluid and a pair of barbecue lighters. Only to now add that a third gasoline can was later found inside Lamparello's van. So much for being low on gas? 
After reviewing surveillance tape, authorities determined Lamparello parking outside the church about 6:30 p.m. From there the aspiring philosopher was observed milling about before collecting the flammable items from his van just on 7:30 p.m. Half an hour later our 'savior' walked into the church. 
But it continues to get better.
Lamparello it seems has an active history- with Miller saying he is 'known to police'. The suspect has two prior arrests in New Jersey for criminal trespass and public drunkenness. 
Responding to Marc Lamparello's arrest, the man's brother, Adam Lamparello, told The Daily Beast, 'Oh my god. I'm shocked this could even be true. I'm almost speechless. This is something that is so not him. I don't know what to even say.'
Lamparello has since been taken to Midtown North for 'further' questioning.
Around 7:55pm, a man walked into St. Patrick's Cathedral in Manhattan with gas cans and lighter fluid, and was subsequently apprehended by @NYPDCT without incident. We thank our partners for their help, and remember – if you see something, say something. pic.twitter.com/qEbmklnqzQ

— NYPD NEWS (@NYPDnews) April 18, 2019