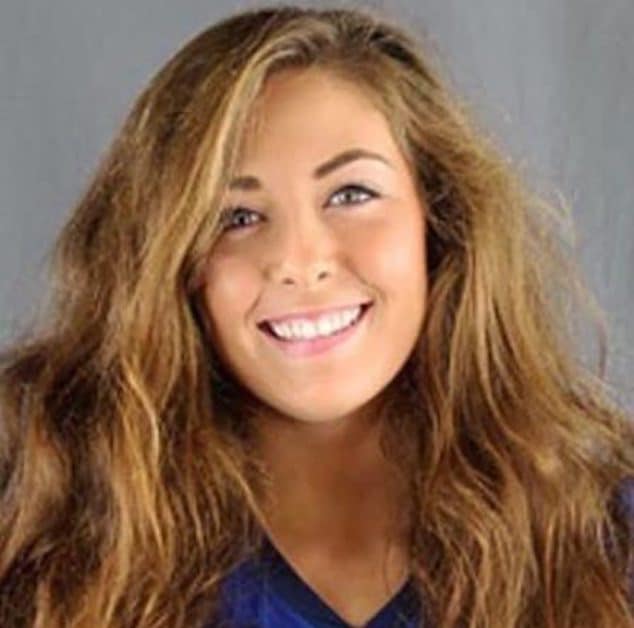 Briar Cliff University (BCU) student, Andrea Norton falls to her death while repositioning herself for photos during hiking trip at Arkansas' 

Hawksbill Crag. 
A university student from Hot Springs, South Dakota has died after falling 100 feet off a cliff at a popular hiking trail in Arkansas on Saturday.
Andrea Norton, 20, was a student and volleyball player at Briar Cliff University (BCU) in Sioux City, Iowa.
New County Sheriff Glenn Wheeler said Norton had been hiking with some university friends before accidentally falling from a rock formation near Jasper – about 101 miles northwest of Little Rock.
Wheeler said she was trying to re-position herself for a photo when she fell off the Hawksbill Crag – a popular hiking destination within the Ozark-St. Francis National Forest. He said the spot, also known as Whitaker Point– is one of the most photographed areas – with several people having met the same fate in recent years.
The BCU Volleyball facebook page released a statement on Saturday night:
'The Charger volleyball family is at a loss for words after hearing of the loss of Andrea Norton. Andrea was an extremely incredible human being, student, athlete, and friend in the BCU community who will be missed by many. This is an extreme tragedy, and as her former Coach- frankly there are no words to express my extreme sadness. As a program, and as her coach- condolences to her family and friends during this time.'
BCU held a vigil for Norton Saturday evening, according to the Sioux City Journal. The school is working out arrangements with Norton's family for a memorial service in the near future, a BCU spokeswoman said Sunday afternoon.
A 20-year-old South Dakota woman died this morning after she fell off Hawksbill Crag in Newton County. The sheriff says Andrea Norton goes to school in Sioux City, Iowa. She was w/ other students. Witnesses say she repositioned herself for a photo when she fell. pic.twitter.com/D0fhOTO36G

— Stephanie Sharp (@stephmsharp) April 13, 2019