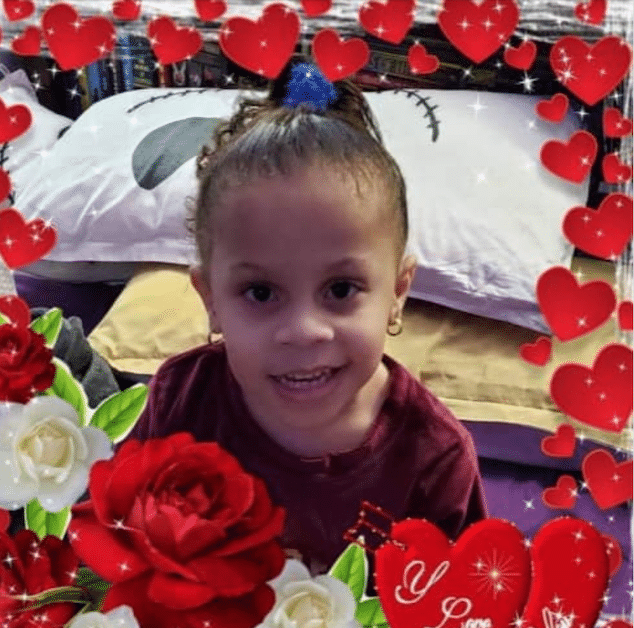 Helena Flores a four year old autistic Bronx girl plunges to her death after managing to crawl out fourth floor apartment window. No window guards installed. 
A four-year-old NYC girl has died after she fell out of a fourth-floor apartment window in the Bronx.
Police say little Helena Flores was being watched by her 18-year-old aunt when the incident occurred on Saturday.
Helena allegedly managed to climb on top of an air conditioning unit that was installed in the window just before 5pm.
She slipped through an open space and fell, landing in a back alley behind the building on East 140th Street. 
Family members said two radiators in the bedroom often left it sweltering- leading to the top window being left cracked open about 2 inches.
Helena's mother, Hilda Flores said the four year old had found a way to climb up the window and open it wider before falling out. She says her daughter 'died on impact.'
A neighbor showed PIX11 cell phone video footage of two EMTs trying to revive the little girl. 
'Police were giving the baby CPR,' a building resident, who wished to be unnamed said.
Helena Flores mother: 'One mistake changed all this in a split second'.
According to police, Helena's mother was at the Mott Haven home at the time of the tragedy but she was taking a nap.
News12Bronx cited Hilda Flores saying the 'tragedy' happening despite extra precautions because her daughter having autism. 'One mistake changed all this in a split second,' she told the media outlet.
'She was our little diva our little princess. A small happy innocent child,' Flores posted on social media. 'We are devastated. Our little girl is gone.'
Not immediately clear is whether the window out of which the toddler fell had window guards. Or ought to have. New York City law requires building owners to provide and install window guards in an apartment if a child aged 10 or younger lives there. 
It remained unclear if building management would face any legal repercussions. 
Helena was set to celebrate her 4th birthday a day before she fell to her death.