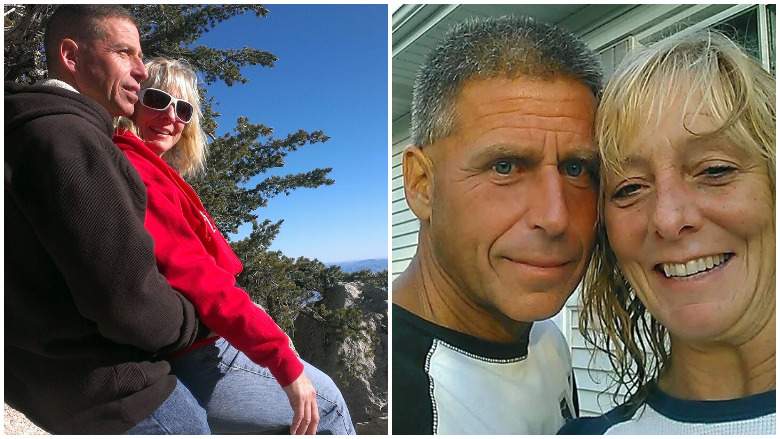 Eric Huska, Wheeling, Illinois husband charged with the drowning death of wife Laura after closing the lid on her at their outdoor hot tub as she 'struggled'. 
A suburban Chicago man has been charged with involuntary manslaughter in the hot tub drowning death of his wife after video showed the man closing the lid on the flailing woman.
Prosecutors accused Eric Huska, 57, of Wheeling, closing the lid of a backyard hot tub, causing the death late Saturday of IT professional wife, Laura Huska, 57.
According to Wheeling Police, home security video shows the couple drinking in the hot tub for some time before the wife unsuccessfully tried to get out. Video also showed Eric Huska initially trying to help his wife before eventually closing the tub's lid.
Deputy Chief Todd Wolff says the wife is seen in the video struggling against the cover. Eric Huska returns to the tub about 90 minutes later, opening the lid and finding his wife floating in the water cbschicago reported. 
Wolff during a press conference said the wife was in no condition to exit the hot tub on her own.
'She wasn't in any condition to get out on her own, and she would've had to lift the lid to get out,' said Wolff. 'Initially he closed it down on top her head–she couldn't get out.'
Eric Huska Facebook post: 'A beautiful hot gift from my lovely wife thank you I love you.'
Not immediately understood is what led to Eric Huska initially appearing to offer assistance to his wife before relenting and going inside the family house- leaving the woman to certain death. No attempt to seek external help is thought to have been made by the husband.
The Cook County Medical Examiner's Office ruled the death a homicide.
Huska appeared in court Tuesday, when a judge set bail at $10,000.
Police are continuing their investigation.
Wolff said he was unaware of any prior police calls to the couple's home.
Noted a recent Facebook post on Huska's timeline showing the couple: 'Ending our week. Up at 3 a.m. Monday-Friday to work out, then work all day. Beat by Friday'.
A friend responded, 'Eric, you get up at 3am to work out? why so early?'
Posted the husband in another post, 'A beautiful hot gift from my lovely wife thank you I love you.'
While cops have yet to say what may have motivated the husband, police say alcohol likely, 'played a part'.
Pictured the outdoor hot tub at the couple's Wheeling, Illinois home. Image via Eric Huska Facebook.