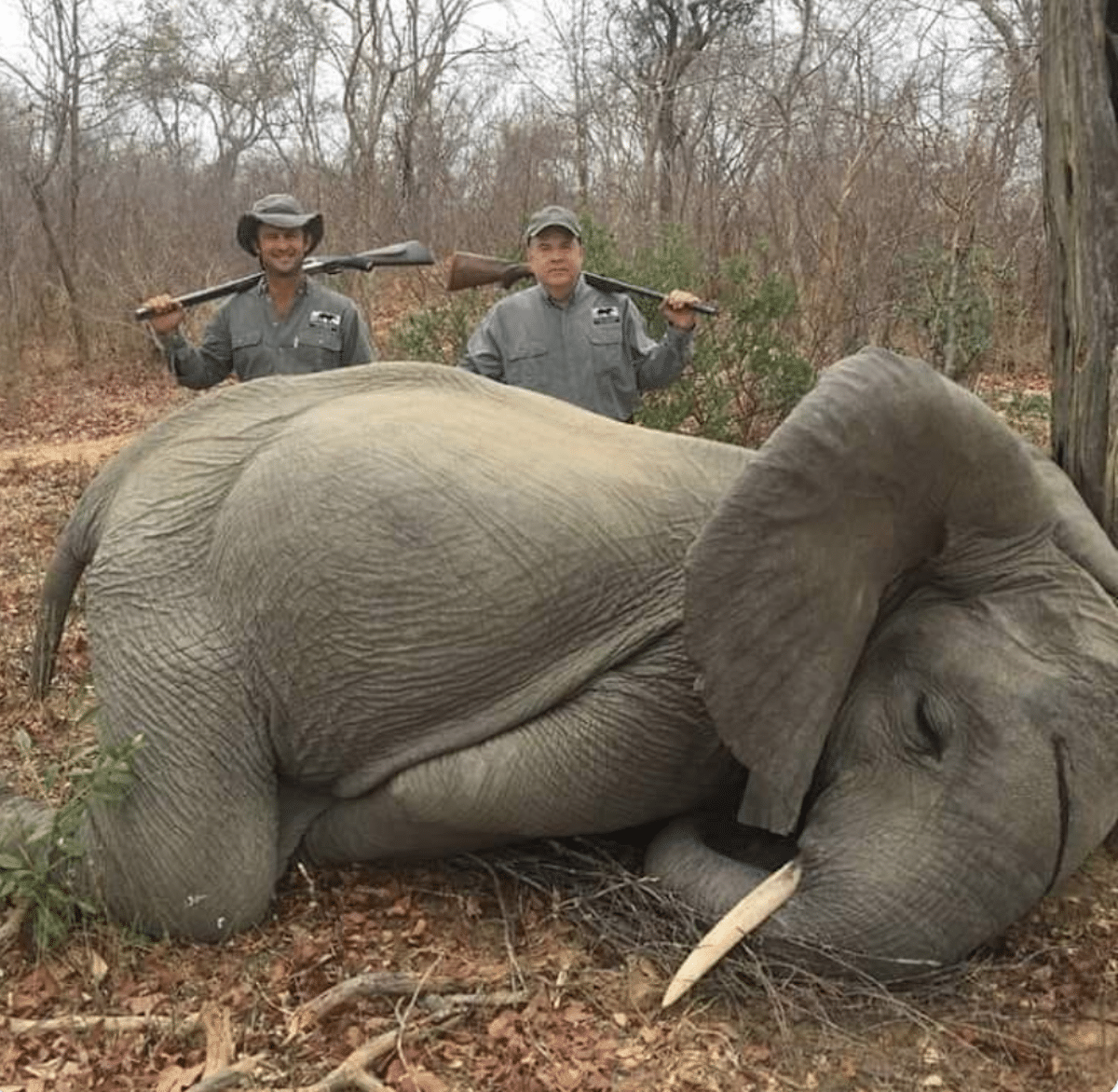 Mike Jines a Georgia hunter becomes most hated on social media after posting hunting photos of a dead elephant he shot and killed, claiming he had no choice after 'unprovoked' attack. 
A Georgia hunter has complained after being threatened posting photos of himself posing along a pair of dead elephants he shot during a recent safari.
Making social media rounds was a picture of Mike Jines posing with a rifle, standing behind two dead elephants –with what appears to be two juvenile female elephants. 
Needless to say the image led to Jines, a partner at a Georgia energy manufacturer, TopGen Energy receiving a slew of threats and claims of being a 'Trophy Hunter'. Claims Jines negates- saying he had no choice but to shoot the pair of adult elephants in 'self defense' after 'charging him'.
In an interview with CBS 46, Jines says he had no choice but to shoot the beasts during an October, 2018 hunting trip in Zimbabwe – after the two fully grown cows charged him and a pal.
'The two [elephants] that are shown in the photos were shot in self-defense, in an unprovoked charge and both elephants were fully mature cows, not juveniles,' he told the outlet.
The animals were killed in a designated safari area in compliance with laws of both Zimbabwe and the US, he said.
'While I can appreciate that hunting can be polarizing and that views on hunting can vary materially, I am sure that you can appreciate what it is like to deal with the vitriol particularly when the underlying information in this case is inaccurate,' Jines said.
He and his company are now dealing with the fallout and trying to make sure people understand the 'actual facts' instead of what Jines has since described as 'mischaracterization'.
And then there were these reactions on social media that caught this author's eye too.
In search of tusk-less elephants to slaughter, this 'man' killed these two teens from a herd of females, claiming they charged him. Then he posed with, and between their dead bodies. These babies were mourned by the herd. Greed & Ego! 😒@Protect_Wldlife @rickygervais @PeterEgan6 pic.twitter.com/kzWr4R33p1

— Xpose Trophy Hunting (@XposeTrophyHunt) January 16, 2019
They killed a baby elephant! The hunting company is #CharltonMcCallumHuntingSafaris. owner is #BuzzCharlton. The professional hunter is #MaxDelezenne and the trophy hunter is #MikeJines, the owner of #TopGenEnergy. Share and make them famous for crude stupidity. pic.twitter.com/E7IBvIPkTb

— Ward Cornett III (@WcornettIII) January 19, 2019