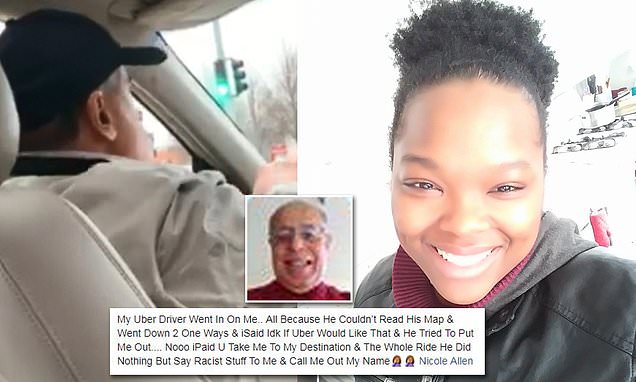 Kiara White Uber video: An Iowa Uber driver is caught on video going on a racist tirade against a black female passenger after struggling to navigate GPS roadmap. 
A black female passenger has shared video footage showing an Uber driver going on a racist tirade after she called him out after going down two one way streets the wrong way in an Iowa suburb.
In the video posted by Kiara 'LuvMoni' White on her Facebook page, the driver, whose name appeared as Timothy on the rider app, is heard hurling racist insults at the woman, including using the pejorative n word. 
But it didn't stop there. The Uber driver is also heard making disparaging monkey noises at White while driving in the Quad Cities area of Davenport as he struggled to navigate the GPS roadmap.
Kiara White Uber video: You're a whxre  who sold drugs' just like 'all black people.'
The dailymail reported 'Timothy' telling White to get out of his car, only for matters to escalate when she refused after saying she already paid for the ride.
'Why don't you get out? I'm sick of you. I don't have to take you to your destination!'  Timmy says to White.
During the increasingly tense exchange, White claimed 'Timothy' saying that as a black person was only good for being on the pole, and going to jail. 
He called her a b*tch and she told him he was her b*tch because she was paying him to drive her. Timothy according to White also called her 'a whοre who sold drugs' just like 'all black people.'
Despite announcing to Timothy that she was recording the exchange, Timothy didn't seem to care.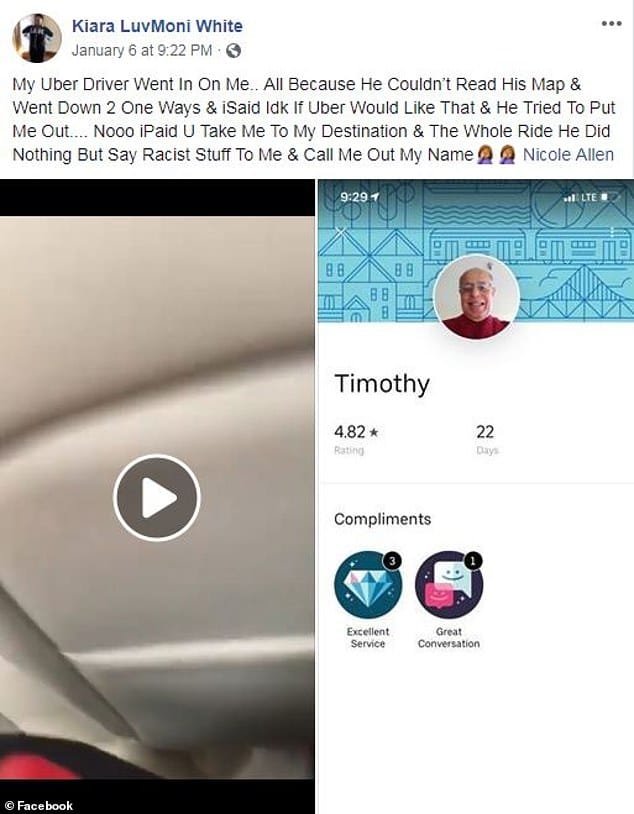 Kiara White Uber driver: Rated 4.82 out of 5 stars.
According to White's post of the Uber driver's account page, he has been a driver for the company for just 22 days when the altercation transpired on Sunday. His score, as rated by clients, was 4.82 out of 5 stars.
In her Facebook conversations, White says she had complained to the company but that they had since blocked her account.
During the incident the driver also threatened he would report her as well.
It's still not confirmed what happened in the car before the camera started rolling, and there's no footage of exactly what provoked the argument.
In a statement to Yahoo Lifestyle, a spokesperson for Uber wrote, 'This behavior is appalling and it has no place on the Uber app or anywhere. Uber does not tolerate any form of discrimination and as soon we learned of this report, we removed this driver's access to the app.'